Soirée's Guide to: Wedding Favors
Wedding favors are one of those fun ways that you can showcase your wedding theme and give a small token to your guests as a thank you for their love and support. However, not all weddings choose to give favors anymore and that's totally okay! A $1-$5 favor multiplied by the number of people at your wedding can add up very quickly, and spending that money elsewhere can be the better decision for a lot of couples. Many times we recommend skipping favors entirely or doing something else instead. A photo booth, signature cocktail, or some sort of entertainment can be a more effective way of wowing your guests on your big day. Even a donation to your favorite charity can be so thoughtful and honorable. 
If you do decide to give favors, picking them out can be fun, exciting, or even a little a bit stressful. Don't worry. We have got your back. Here is a list of some of our favorite, relatively inexpensive, wedding favors below to inspire you and give you ideas. Click the photo for a direct link on where to buy. Enjoy! 
Koozies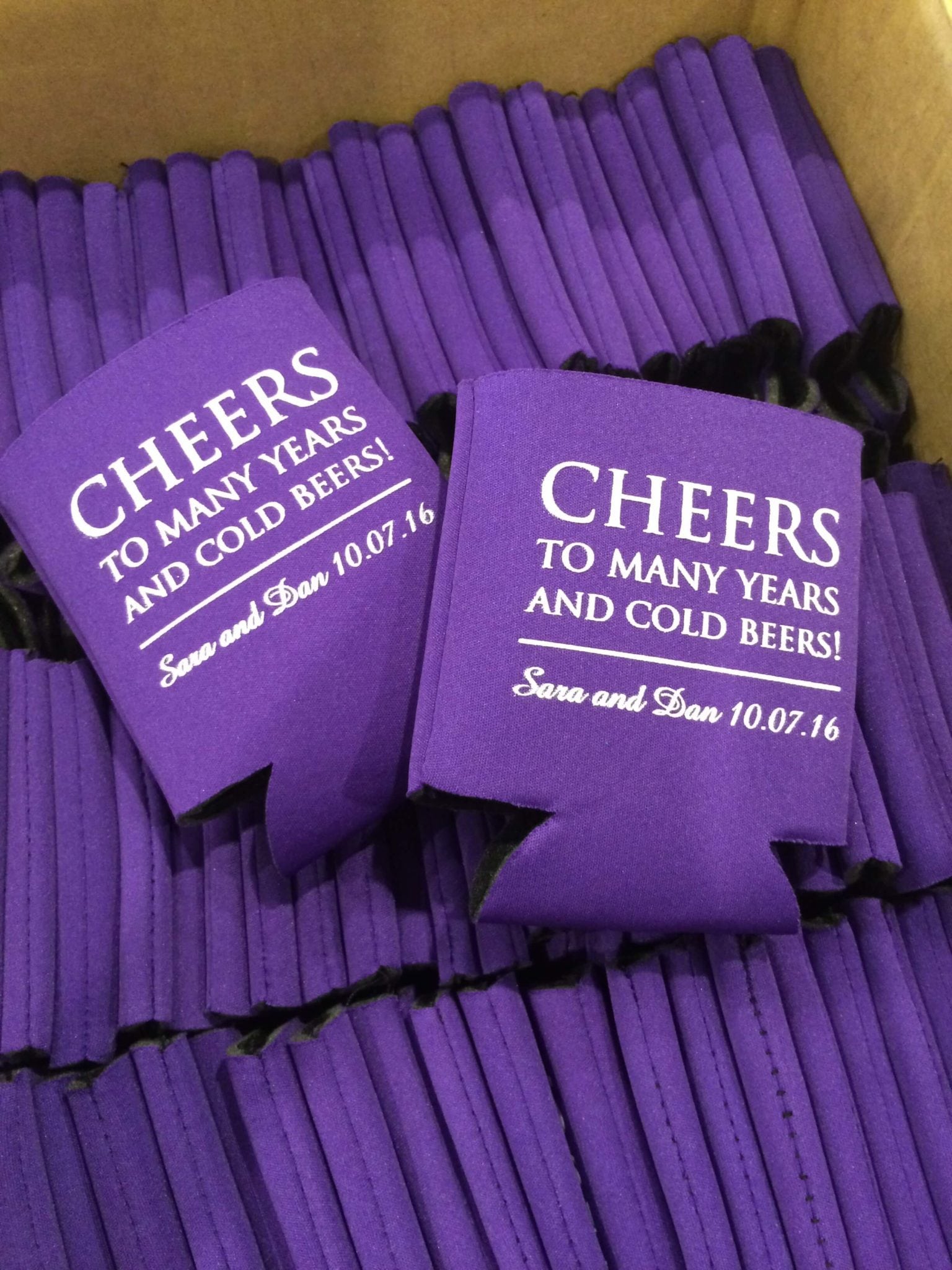 Koozies by Allegra Iowa City
Who doesn't love the typical wedding koozie? It keeps your drink cold and your hands warm! Ordered online or from your local print shop is a great favor that guests will use the night of the wedding and for years to come.
Luggage Tag
   

Tags printed by Allegra Iowa City
These are especially fun if you are having a destination wedding!  We love the luggage tags because they are something your guests will actually use after they leave. They offer a cute way to remind your guests of your special day each time they travel. We love these because they're stylish, but also serve a practical use for your guests after your special day!
Bottle Opener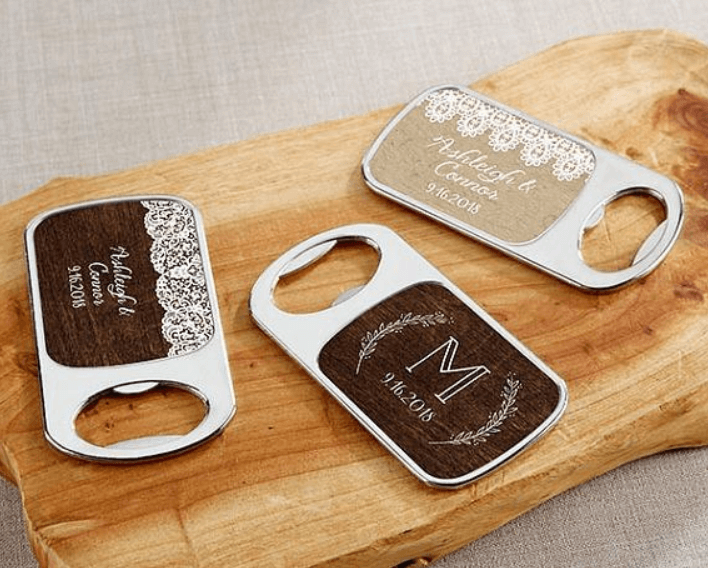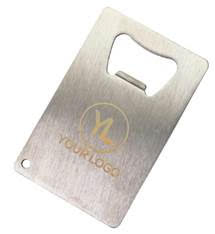 Another one of our practical favorites! Unlike your typical favor that gets thrown in a drawer and forgotten, your guests will think of your wedding each time they crack open a cold one! There are several different options for designs with these bottle openers.
Candles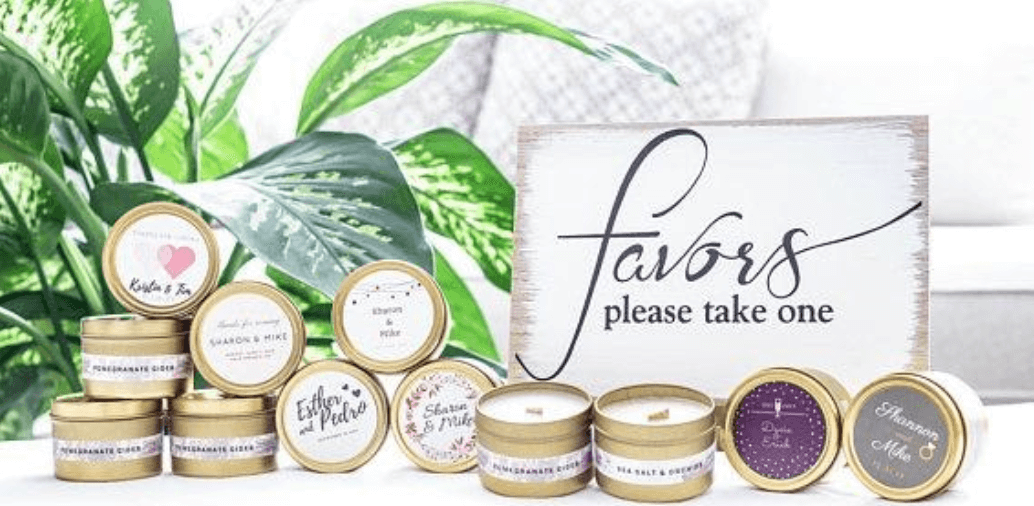 These candles can be customized to your style and preferred scent. They can be designed to meet the style of your wedding. We also love that they remind your guests of the love you got to celebrate each time they want to light a candle and relax.
Coasters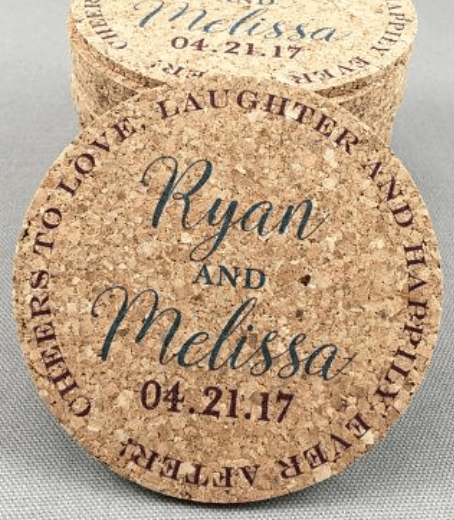 Coasters can be customized to match your design elements and maintain consistency in style with your wedding. They are practical and easy for your guests to grab and stick in their purse or jacket at any point throughout the night. We also love that your guests can use these favors for their drinks before they even leave the wedding!
Mints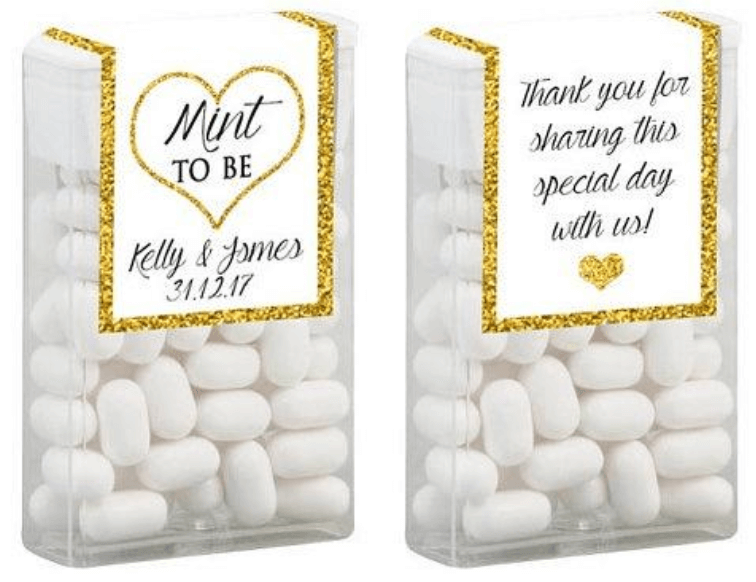 Hard to beat the classic "mint to be" wedding favor. These can be personalized to fit your special day! We love these simplistic crowd pleasers!
Matches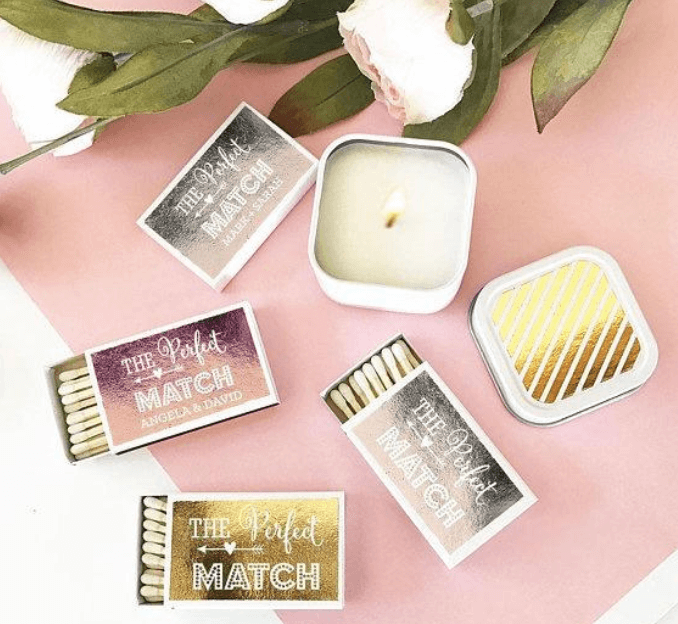 If you're like us and like a good pun, these are just as cute as the mints! We love these customized "perfect match" favors! They're quick, easy, and great if you're on a tight budget! These would also go great with the candles we mentioned earlier!
Flower Seeds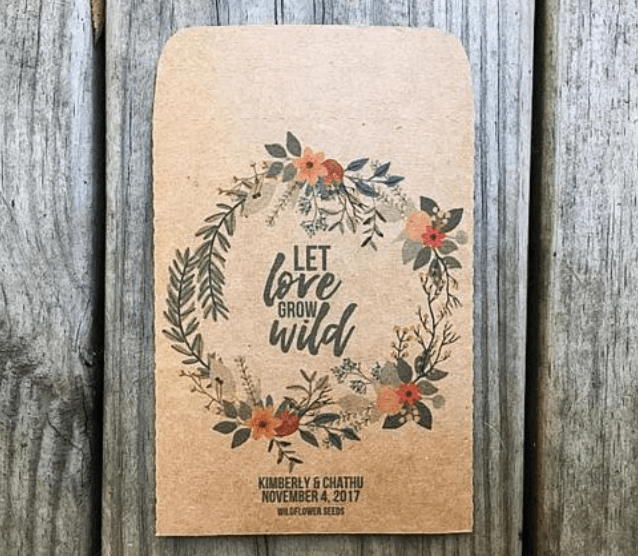 How cute are these floral seed packets? Another great option for those of you on a tight budget. We love the idea of your love helping something grow! 
Sunscreen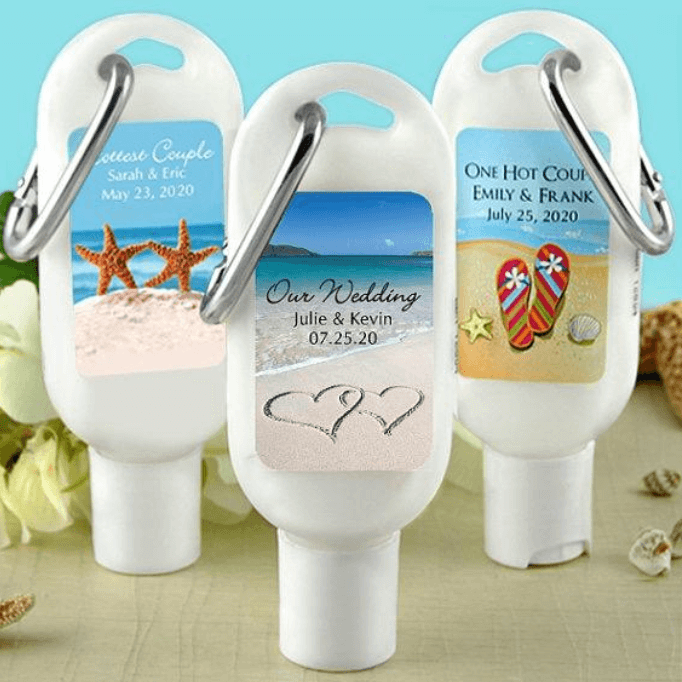 Are you wanting your favors to fit in with a destination wedding? Keep your guests safe from the sun with these adorable sunscreen favors. We love how unique these are!
Magnets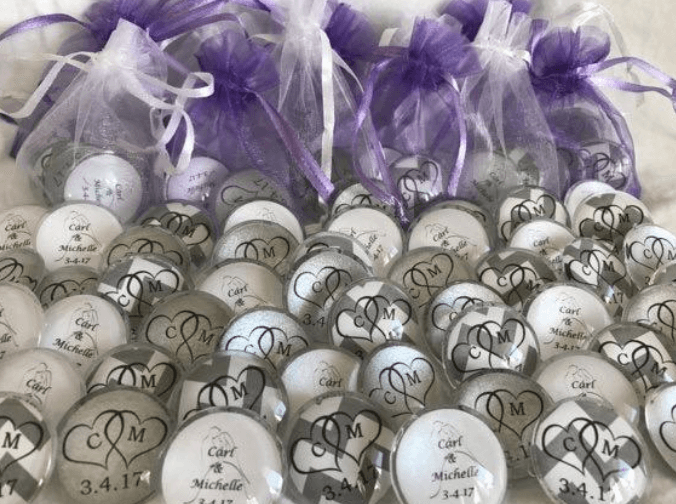 These are great simplistic options that can go right on the refrigerator and be a daily reminder to your guests about your big day. We love these small budget-friendly options! They won't take up too much space on a favor table or at individual place settings either.
Hot Chocolate Bags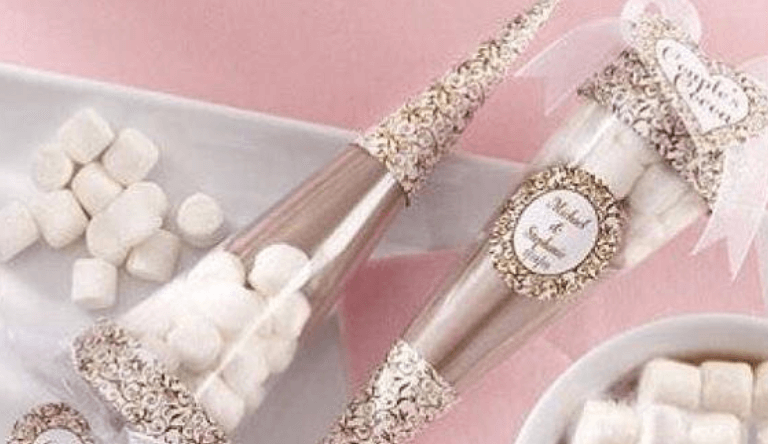 We love these individual hot chocolate bags! You can customize your bags to be any kind of mix you want. Classic, caramel, mint, or white – we love these sweet ways to thank your guests for being part of your special day. You can DIY or order them at the link above.
Lip Balm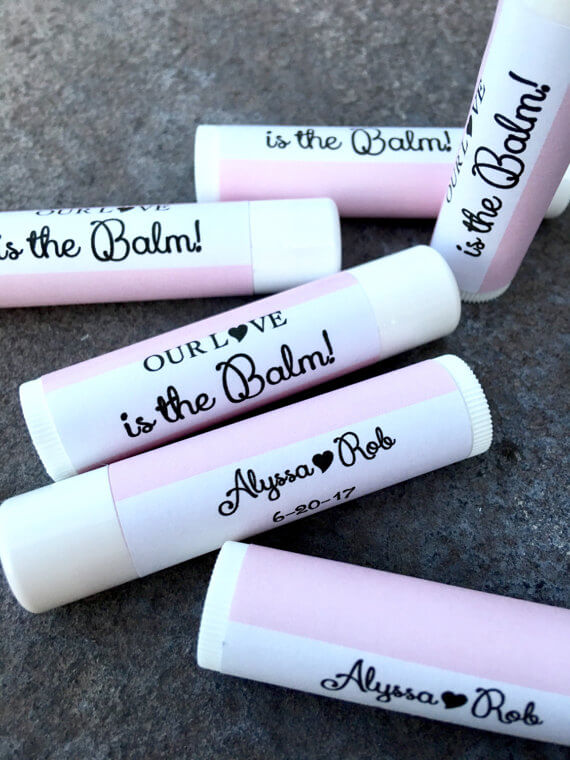 When you're smoochin' your loved ones, it is always nice to have some chapstick on hand. You can order them custom made online or get labels printed like the link above and make your own.
Lottery Tickets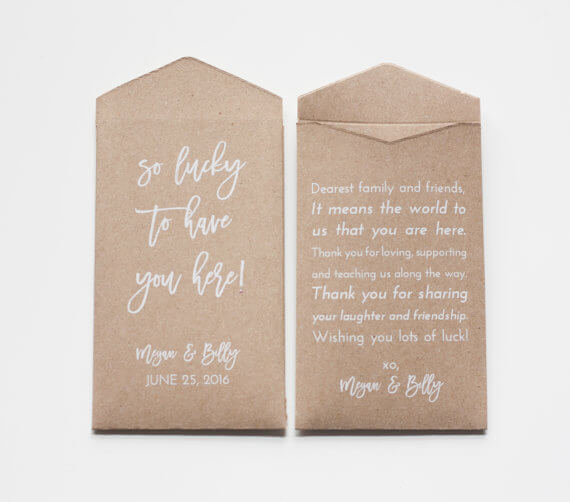 We love the idea that guests might be lucky in love! Keep the favors inexpensive by purchasing $1 lottery tickets to go inside each one. These are cute preprinted envelopes, but you could always DIY these too by printing your own cute envelopes that say "For Richer, For Poorer".
Sunglasses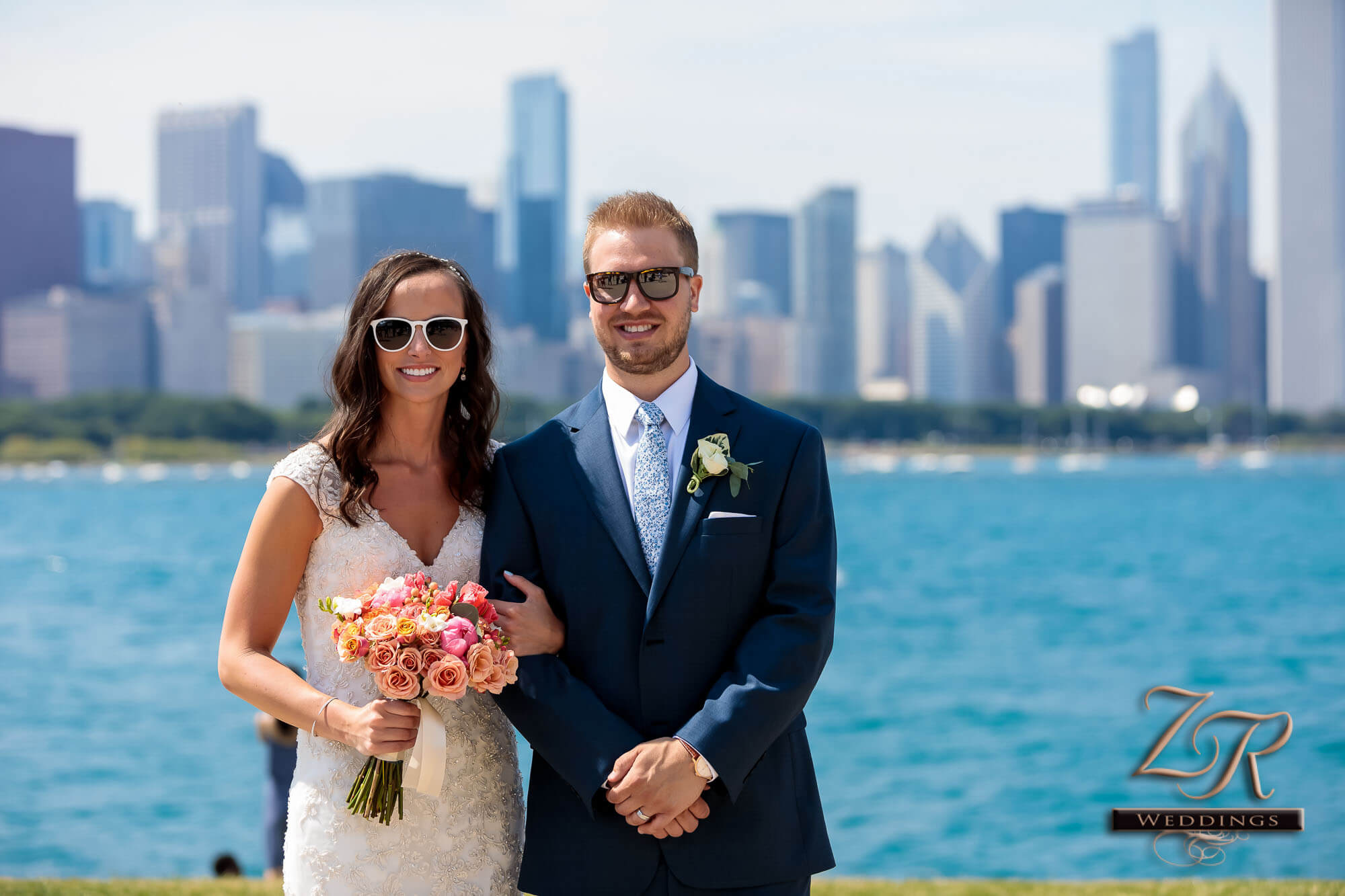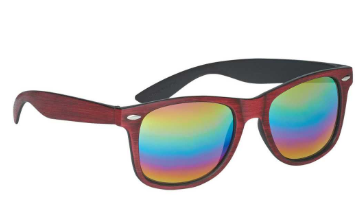 Let your love shine brightly with cute personalized sunglasses. Guests will always remember your wedding when they put them on. Plus they make for adorable photos on your wedding day!
Cups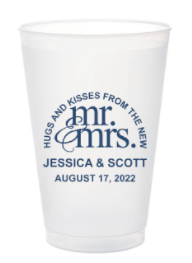 Your guests will love drinking out of adorable custom cups on the night of the wedding. Leave a few markers around for guests to write their names, and they won't lose their drink!
Plants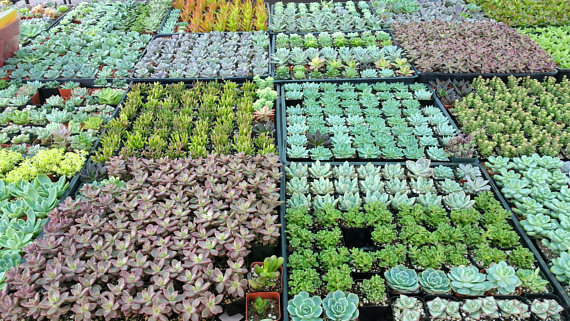 Does anyone have a green thumb? Plants are another favor to let your love grow! Succulents or bamboo shoots are a cute way for guests to remember your wedding day.
Umbrellas
If you are worried it might rain on your wedding day, consider ordering custom umbrellas for your guests. They are practical and make for adorable photos like at Reid & Cait's wedding. Photo by Danielson Photography. Stationery & Logo Design by Allegra Iowa City.
Other ideas:
The sky is the limit for favors and creativity is highly encouraged. Personalize your favors to share your story with your guests. I have worked with couples going to dental school and they gave away toothbrushes, floss, and mini toothpaste as favors. There is no right or wrong way to do your favors!
Okay, maybe you don't need to give out live puppies like they did in the movie Bridesmaids.
What are you doing for your wedding favors?