Soirée's Guide to: Wedding Dress Shopping in Iowa
Calling all brides! Congrats on the engagement! We are so happy you have found your perfect mate. But, as you all know, it does not stop there. Finding the perfect dress is just as important (only kidding), but it is what makes the you feel amazing and beautiful on your wedding day. Sometimes shopping can be the best part, but putting all of your emotions into one article of clothing can be a huge stress. To make this process easier, we have wedding dress tips every bride should know.
Special thanks to The Modern Lovebird for these beautiful images!
The right time to start is…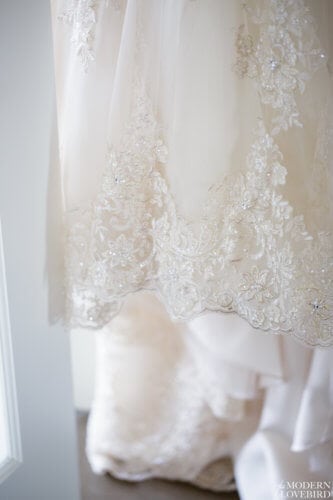 Starting to dress shop about 10-12 months before the wedding day is ideal. Whether you are researching or going from store to store, starting early will give you the opportunity to see different options and styles. It will also give you time to set up appointments at bridal boutiques. Don't forget about the time you need for alterations, which could take up to 6 to 8 weeks. It's always better to be safe rather than sorry!
As far as appointments go, you should make one 2-4 weeks out, depending on the dress store's availability and recommendations. While doing some research, check out dress stores websites. They'll have some helpful resources like an FAQ section or an availability calendar.
Do your research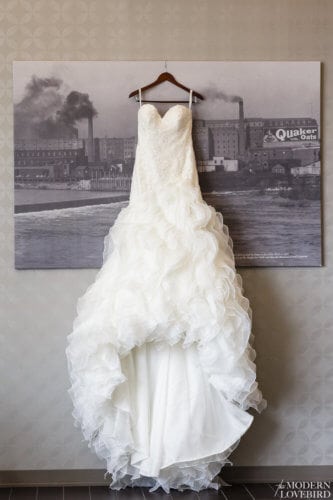 Prior to hitting the shops, think about what type of dress you want. It doesn't have to be "the one", but having a style in mind will help you and the sales staff you're working with by making the day go a lot smoother. Start by checking out our Pinterest boards filled with themes, color schemes, and select your favorites. It's always better to have examples to show your consultant. Then she will get a feel for what you're looking for.
Beware of Scams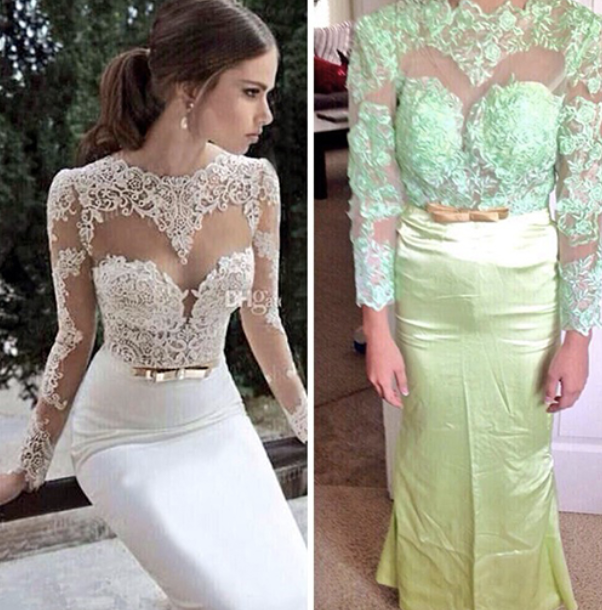 It's super easy to go online and find a wedding dress for super cheap. I mean, anyone would rather spend $200 on a gorgeous dress instead of $2,000, right?!
However, did you know there are over 600,000 counterfeit bridal gowns that come into the United States from overseas every year?! Online stores can make a lot of money if they sell fake dresses, and each item is nearly always falling apart, not what was expected, or filthy! Make sure your dress is purchased from a real store or run the risk of wasting your money, not to mention how stressful of an experience that would be! A reputable dress store will sign an agreement with you as a binding contract for your purchase. Don't buy anything if it seems sketchy.
Set a price range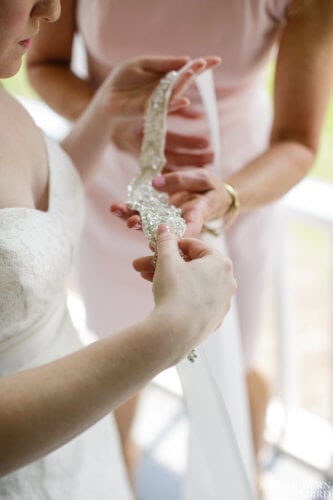 Shopping for dresses without a budget is a huge no no – trust us. Setting boundaries on your price range will keep your goals in line. Don't try on something that you know isn't within your range. As you're shopping, don't forget to weigh in the cost of alterations, jewelry, shoes, and veil too.
According to Martha Stewart Weddings, you should plan to spend about 10% of your overall budget on your dress. TheKnot.com recommends spending even less than that, around 6% for the dress & alterations, and 2% for veil and accessories. Every bride is different depending on if you're more into fashion than others. If you spend more on the dress, then be prepared to cut your budget in other areas to make up the difference.
Involve your close trustees, but keep your list tight
We've all watched that episode of Say Yes to the Dress when the bride shows up to her dress appointment with a huge posse. Everyone has a different opinion, and the bride finds it hard to express herself and make a decision. No one needs that drama! We recommend inviting no more than two or three people to go with you. This could be your mom, best friend, or sister. It's also a great way to bond with your future mother-in-law! Bottom line — it's important to surround yourself with people whose opinions you trust and value.
Play hooky for a day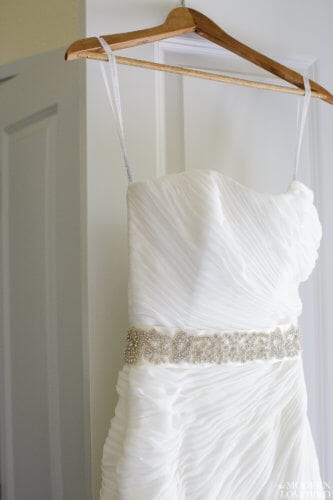 If you have a personal day to spare or even a half-day, it will be worth taking off work to shop. There are fewer crowds going from store to store on weekdays. This will provide you with more time to shop and the best service and attention from the sales staff.
Be prepared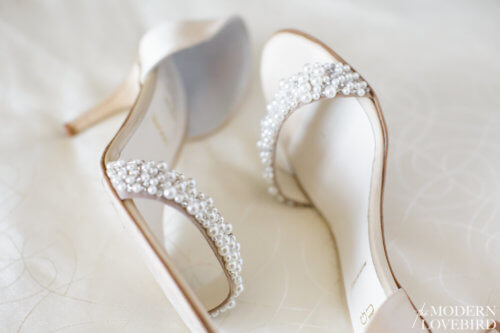 If you have your jewelry, bring it. If you have your shoes, bring them. If you have a strapless bra, bring it. If you have…well, you get the picture. It's important for everything to match as one. Even if you don't have your shoes, bring a pair that you know will be around the same height as the shoes you want day of. That way you can simulate how everything will look all together.
Being prepared isn't just about the outfit, being primped up is important too. Wear make up, have your hair done, wear your favorite shirt. This will give your consultant an idea of your style and you some confidence when trying on each dress.
Eat before you try on dresses!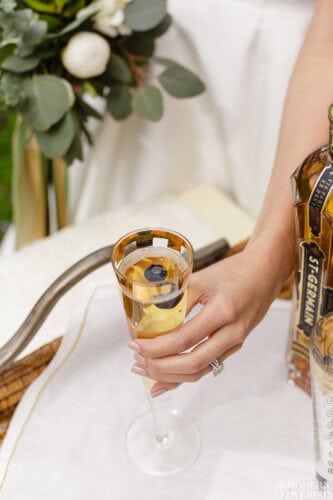 No one wants to be bloated when trying on wedding dresses, but it is important to have a well-balanced meal for the long day you will endeavor. Not eating before will cause you to be cranky and rush the day so you get to eat. Remember, wedding dress shopping a marathon not a sprint.
Challenge yourself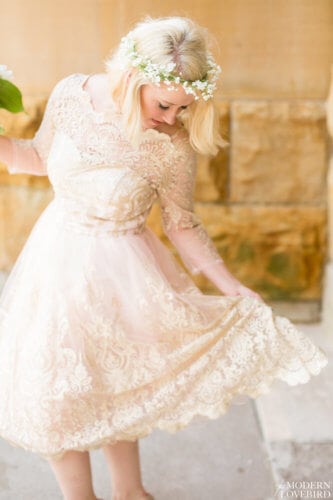 You did all this research, and you know what your perfect dress is…but wait. When you went in store and tried something different on, it was the one! Don't be afraid to say yes to something right away! You got lucky and found the one easier than others. It is okay to absolutely fall in love with a dress that was not what you originally wanted.
Step out of your comfort zone too. Some dresses look completely different on the hanger and gorgeous on your body. Some dresses that you thought you'd love – well, you're not really in love with them. Be adventurous. Try something new! 
Don't get hung up on the dress size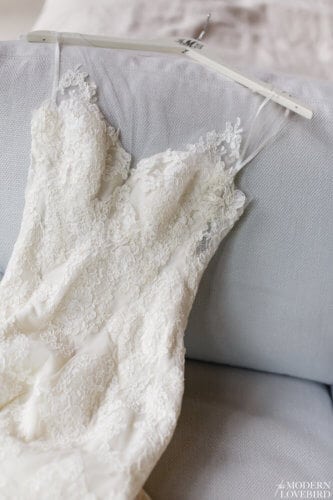 Order the right dress size based on the store's recommendations after they measure you. Yes, every bride wants to drop an x amount of pounds before their perfect day, but your body type isn't going to completely change. It's going to be easier and less expensive to take a gown in then squeeze into a dress that doesn't fit when it comes in.
In conclusion,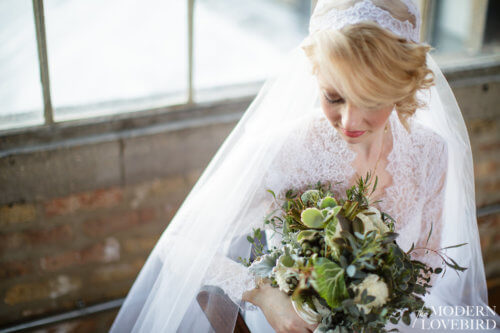 We hope you find the dress you see yourself walking down the aisle in! When you find that perfect dress, you'll know. There is no thrill quite like it. The feeling is indescribable. So have some tissues ready, have fun, and enjoy every moment of this adventure!
Photo credit and major gratitude to The Modern Lovebird for these beautiful images! The image for the scam dress is from here.
Looking for a bridal dress store? See our Vendor List for suggestions in Eastern Iowa.