Soirée's Guide to: Beautiful Engagement Photos
Engagement photos might be the first formal image your guests will see when it comes to you and your future companion's nuptials. These pictures can be featured on your save the dates, invitations, as well as your Facebook profile when you finally change your relationship status from "in a relationship" to "engaged". (so exciting!) While having a great photographer (like The Modern Lovebird!) is important, preparation is key. We know you and your fiance want these pictures to be perfect! We've come up with a set of tips to help you prepare and develop these picture perfect moments.
Thank you so much to Robyn and the associates at The Modern Lovebird for these amazing photos!
Be yourself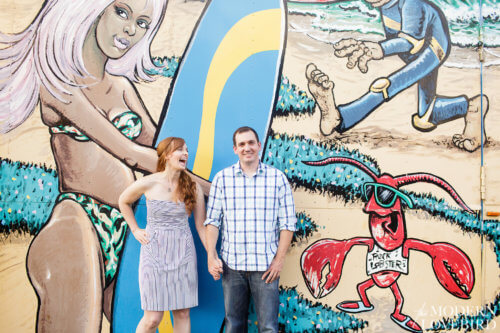 The best photos are the ones that accentuate your style and personality. With that being said the number one rule of thumb is to be yourself! It's your time to show off you and your partner's relationship and happiness. If this means wearing your favorite dress or being cozy in a pj set, then go for it! Your happiness will shine through the photos when you play with individuality. The more you feel like yourself, the more natural the pictures will look, too.
Comfort is key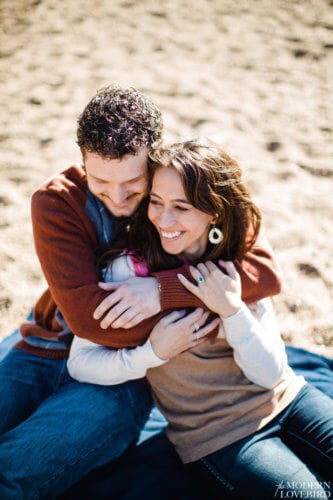 This is going to be a long day for you, your partner, and your photographer. You will be asked to do a ton of poses and want to be comfortable and natural looking in every photo. If you're wearing a short tight dress, that already cuts out every "action pose" you and your mate could take. The better you feel in your clothes, the better you'll look for the camera. Maybe save your skinny jeans for another day.
Complement each other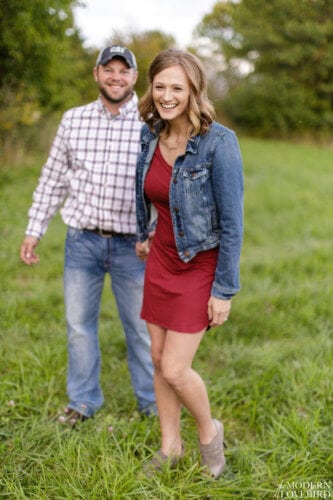 This may not be the best day for you to show up in a fur coat and heels while your other half shows up in a pair of flip flops and a tee. You should both look like you're going to the same place. This doesn't mean you have to coordinate your clothes to be matching, but definitely rock the same level of dressiness or casualness. Pretend it's a date with a dress code!
Play off the location…and the season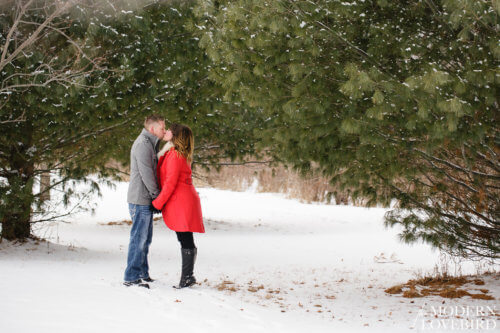 Think about your surroundings when picking out color schemes, patterns and attire. A color that contrasts the background would be perfect to make you and your partner pop! Remember, you are the star of the shoot.
Living in the Midwest, we never know what kind of weather we're going to get, it could be sunny and 75 in February or 30 and cold in September! Even though weather is always a hit or miss, if you're doing an outside shoot, plan for the season. In autumn, you can wear awesome knits and sweaters, and in the spring, floral dresses. Plan a few outfits for the day just in case it's hot or chilly.
Be well groomed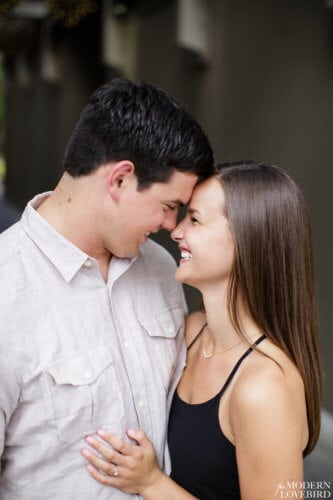 Floss, wax, trim, whiten, repeat. Yes, it's all about being yourself, but you should also go the extra mile in order to stand out in photos. It's important to be well groomed, because these are the pictures you'll save forever. Photographer's can do light photoshopping, but they can't edit everything. So make sure you iron your clothes! 
Getting your makeup and your hair done by a stylist can be fun and make you feel really good about the photo shoot (although, no worries if you just want to do it yourself!).  If you do decide to do your hair and makeup, make your hair a bit bigger than normal and your makeup a little heavier.  Eyeliner & strip lashes always seem like overkill in person, but, trust us, look amazing in photos.
Willpower? If you're up for it!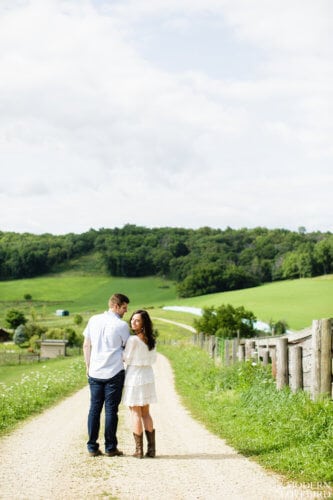 If you have the desire or willpower, cut out added sugars and alcohol in your diet in the days to a week prior to your photo session. Sugar can make your skin a bit more pinkish/red. Cutting out sugars will decrease this and can give your skin a more even tone. Also, spray tans are a no go! Sometimes the spray tan can make your skin look orange or ashy in photos. So be yourself and trust your photographer to take images that are the best versions of you and your fiancé! 
Lastly, have fun with this photoshoot!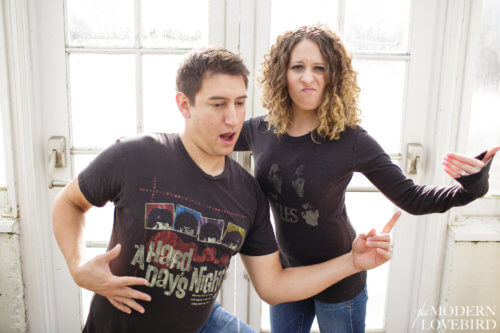 This is an entire photoshoot devoted to you and your love! And an added bonus: you get the whole day to spend time with each other! Whether they are serious or playful poses, you want to capture the real you. Enjoy your day together and the priceless photos you will get afterward.
Thank you so much again to The Modern Lovebird for these gorgeous images!