Sarah and Josh's Wedding at Walker Homestead in Iowa City, Iowa
A Jovial June Wedding at Walker Homestead in Iowa City, Iowa
Looked over to In Love
Sarah and Josh were introduced in 2015 by Sarah's roommate and Josh's friend, Veronica Tessler. They sat near each other at a backyard party but did not speak to each other all evening. Veronica meddled a bit, telling Josh, "Sarah has a crush on you," and told Sarah, "Josh asked about you." It piqued both of their interest in each other. Veronica's matchmaking plan had worked; both Josh and Sarah requested each other's information, and the rest is history!
A Surprise Iowa City Engagement
The couple lives in Washington, D.C., but traveled back to Iowa City for a friends' wedding, and on the night before, Sarah & Josh were supposed to get dinner with some friends, but she was exhausted and didn't want to do anything except relax on the couch.
Josh tried to get her to go out for a drink before dinner, but she said no — she wanted to lay on the couch a little longer. Thirty minutes later, he returned to tell her that there was supposed to be a "surprise" at the drinks. "Someone" was in town that she would want to see. She quickly got ready, and he wanted to walk, but she asked if they could drive despite the short distance.
Josh turns into the parking lot of her previous apartment building on College St., which has a beautiful garden where they spent a lot of time. She sees a blanket on the ground, candles everywhere, glasses, and sparkling wine. Sarah writes, "I more or less blacked out over the next 20 minutes, but it was the best hour of my life to date."
A Stunning Celebration
Lucky for the couple – they were already friends with our lead wedding planner, Emily. Planning this sweet couple's wedding was a JOY because they've been friends for years. She worked for Josh's company Sculpt from 2015-to 2018 (when Soirée was growing), so it was an honor to be the wedding planner & designer for their amazing celebration.
After Sarah and Josh's initial consultation, the couple decided on the Experience package because they live in Washington, D.C. They knew planning their wedding with local experts would be much easier than organizing everything from afar. They wanted a memorable celebration full of:
Whimsy
Elements of surprise and delight
FUN
Tasty food
Beautiful Decor
Inclusive
It lasts longer in people's minds
Low stress: not frantic, very present & in the moment;
"They looked hot!" (haaaawwwttt!)
They really didn't want a wedding that had these vibes:
Not casual
Not uptight
Not cliquey
No terrible dance music
Not predictable or cliché
Sarah and Josh had a clear vision in mind for their wedding theme: a perfect blend of sophistication and natural charm at Walker Homestead. See the pictures below to see how everything came together!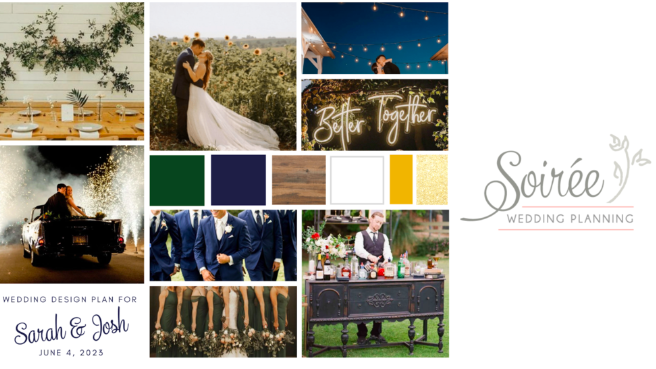 Congratulations, Sarah & Josh!
Vendor Credits:
Planning/Design: Soiree Wedding Planning
Venue/Caterer: Walker Homestead
Photographer: Cambria Shelley Photography
Videographer: Kyle Starcevich
Rentals: Unique Events
Florals: Nicole Reisen
DJ: Aria Wedding
Bridal Gown Designer: Justin Alexander
Bridesmaids Dresses: Mumu Weddings
Beauty: Aveda Salon & Spa
Stationery: Allegra
Transportation: Express Midwest
Bridal Gown Designer: Justin Alexander
Bridesmaids Dresses: Show Me Your Mumu
Mens Suits: Streetsmart Tailoring
Jewelry: M C Ginsberg Objects of Art Inc
*****