Nashua and Alex's Wedding at Bella Sala in Tiffin, Iowa
A Beautiful Boho Wedding at Bella Sala in Tiffin, Iowa
Stuck like "Glew"!
Love can find us in the most unexpected moments and places. For Nashua and Alex, their beautiful love story began on a Super Bowl Sunday in 2021, when Nashua's best friend Cassie invited her to watch the game at Glew's (Alex's) home. Little did Nashua know that this casual gathering would lead to an incredible journey of love and a magical wedding day at Bella Sala in Tiffin, Iowa. It wasn't long after meeting they began dating officially.
Engaged in Nashville
While exploring the vibrant streets of the country music capitol and multiple music venues, they found themselves at Miranda Lambert's rooftop bar. As the song "Tiny Dancer" by Elton John started playing, Alex took Nashua's hand and began dancing together, creating a memorable moment amidst the Nashville magic. Then, in a heartwarming gesture, Alex got down on one knee and asked Nashua to be his wife. Overwhelmed with joy, she said "yes" without hesitation. Unbeknownst to her, their friends Alyssa, Amanda, and Tony were all part of this beautiful surprise, making the proposal even more unforgettable.
Turning Dreams Into Reality
Nashua and Alex knew that their wedding day would be a celebration of their love and commitment to each other, so they wanted it to be nothing short of perfect. Enter Emily, owner of Soirée Wedding Planning. After meeting with her, Nashua and Alex knew they wanted to book the Experience Package, and we got straight to work. With a shared vision, Emily and her team began crafting a wedding plan and Blush Boho design to make their dreams come true.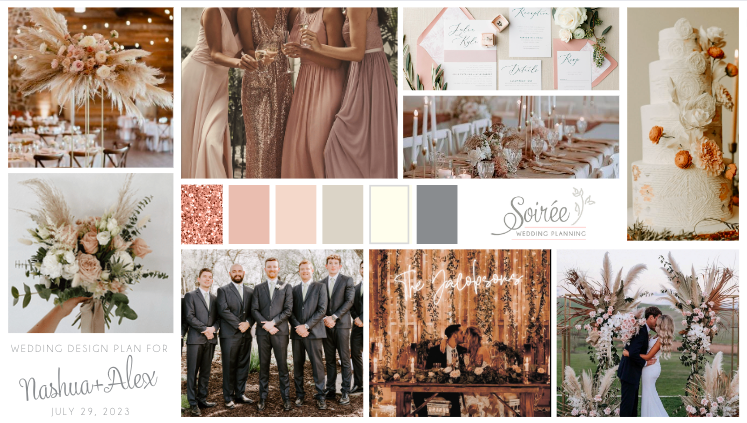 From a simple gathering on Super Bowl Sunday to a romantic proposal in Nashville and, finally, a magical wedding day at Bella Sala, their journey has been nothing short of extraordinary. As they begin their married life together, we wish Nashua and Alex all the happiness and love in the world, knowing that they will continue to create beautiful memories as they travel through life hand in hand, forever and always.
Vendors:
Planning/Design: Soiree Wedding Planning
Venue: Bella Sala
Photography: Ashlee Paige Photography
DJ: Center Stage Productions
Rentals: Unique Events
Floral: Unhinged Floral Co
Beauty: Beauty Style Edit
Videography: Voigt Media
Caterer: Perrin Catering
Bakery: Sugar Flower Cake Design
Stationery: Allegra Iowa City
Mens Suits: Prince Albert Tuxedos
Bridesmaids Dresses: Azazie