Marika and Erica's Wedding at Walker Homestead in Iowa City, Iowa
A Picturesque September Wedding at Walker Homestead in Iowa City, Iowa 
From Chicago to Iowa City
Love stories often have unexpected beginnings, and Marika and Erica's journey is no exception. Their tale of friendship, support, and love is one for the books. It all started during their OBGYN residency training in the bustling city of Chicago.
Marika and Erica began as colleagues, united by their passion for medicine and shared dedication to helping others. Little did they know that their connection would soon evolve into something much more profound. Their love story took a new chapter when Marika accepted a fellowship in Iowa City. Despite the distance, their commitment to each other only grew stronger. They spent countless weekends traveling back and forth between Chicago and Iowa City, cherishing the time they had together.
But the story doesn't end there. Erica, deeply committed to building a life with Marika, moved to Iowa City, starting her fellowship in June. It was a significant step in their journey, symbolizing their unwavering dedication to one another.
Showing off Iowa
Marika and Erica shared a love for design that drew them to the aesthetics of mid-century modern and modern farmhouse styles. They envisioned their wedding as a fusion of these two design philosophies – a celebration where clean lines met rustic charm. With their vision in mind, the couple met with Emily and her team at Soiree. The couple chose the Experience Package.
Marika and Erica's wedding was not just a celebration of their love; it was also a celebration of Iowa itself. The couple aimed to leave a lasting impression on their guests, and they succeeded. The thoughtfully curated decor, the one-of-a-kind design, and unique music selection all combined to create a wedding experience that truly showcased the charm and warmth of Iowa.
Vendors
Planning/Design: Soirée Wedding Planning
Venue/Caterer: Walker Homestead
Photographer: Grace Troutman Photography
Videographer: Feilmeier Films
DJ: Riley Mullane
Beauty: Aurora Blush
Bakery: Deluxe Bakery
Rentals & Floral: Unique Events Iowa
Transportation: Express Midwest
Stationery: Allegra Iowa City
Design Board by Emily at Soirée: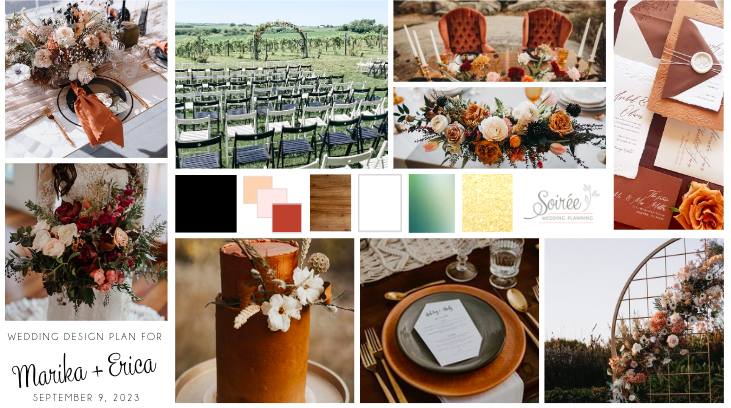 See how it all came to life in the pictures & video below!
***