Ask the Experts: Wedding Makeup 101
Melissa Banes got her start in the beauty industry 10 years ago, and has been loving making women feel good about themselves ever since!
She was a part of the first-ever graduating class at Capri College, with a dream to work at the number one beauty company in the world, MAC cosmetics. Melissa moved to Nashville, then to Sacramento, and then to L.A to pursue her dreams. She ran one of the largest MAC stores at The Grove, where she got the chance to work with countless celebs and A-listers. She soon got tired of the fast-paced lifestyle of L.A. and moved back to Cedar Rapids. Melissa started doing wedding make-up on the side as a way to get out of the house after having her son. What turned into a side-hustle turned out to be a huge success! She is currently one of the most sought after makeup artists in the Eastern Iowa corridor traveling to weddings all over.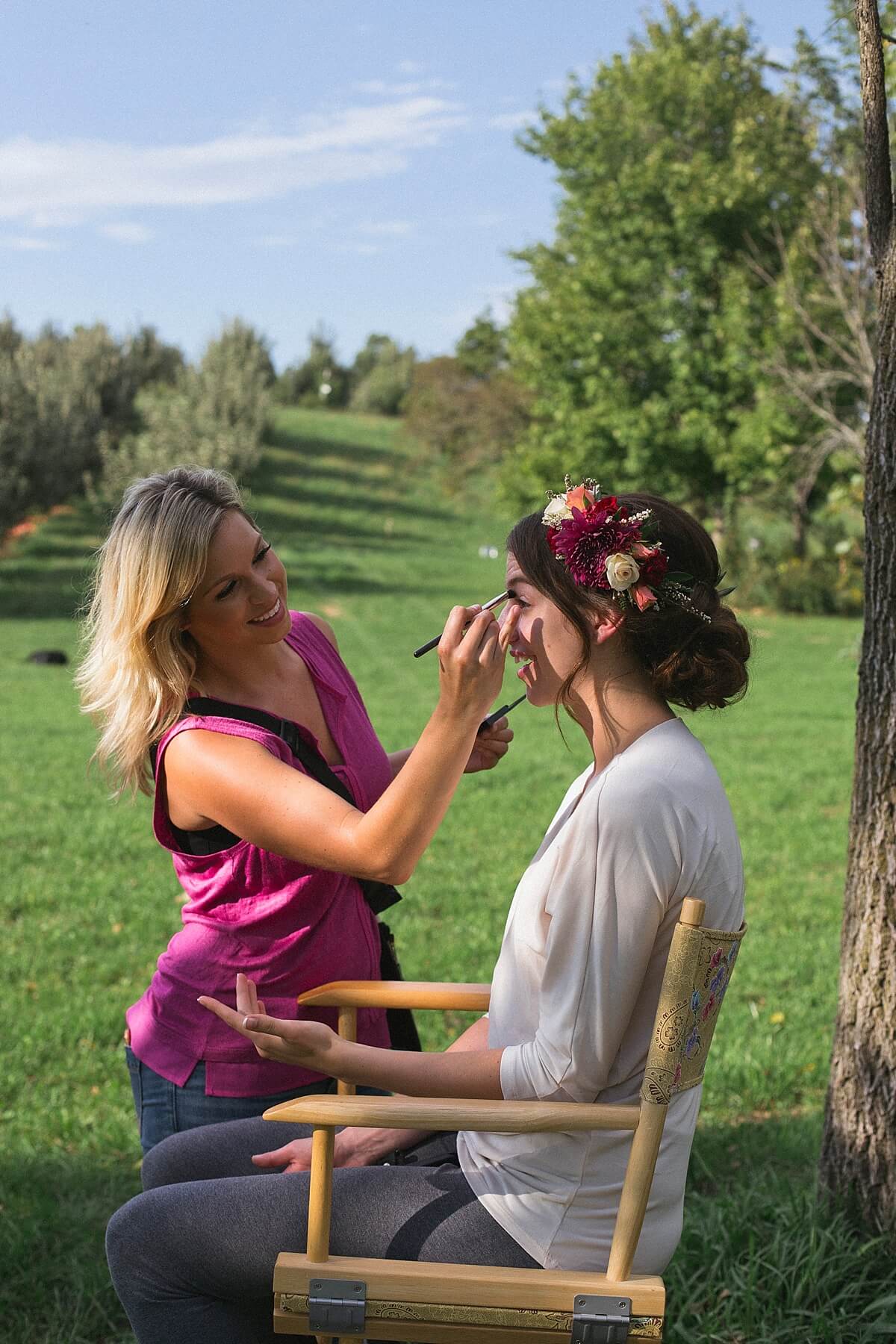 Here are her answers to common questions we get from brides about their look for the big day!
How do you go about choosing your wedding look?
Social media is definitely my go-to for finding beauty inspiration. From Pinterest, to Instagram, to YouTube videos — you can never go wrong by doing a little research ahead of time. Find a look that you love, but know that it might not look the exact same on you. Be realistic about the make-up, since you know yourself and your features best. I love when brides can show me what they are thinking and I can bring that vision to life!
How do you know if you have found the right make-up artist?
First things first, ask around! Word-of-mouth is how my business continues to grow. It's great to hear testimonials from brides you trust when choosing your make-up artist. Set up a trial run, and do a run-through to make sure you like their style. Every make-up artist has a completely different style. Look at their social media sites ahead of time to get a feel for their unique style.
What are some tips you have for prepping your skin before your wedding day?
Prepping your skin is SO important! Your make-up will last longer and look the best when you have fresh, exfoliated skin. I recommend finding a good facials about 6 months out from the wedding day. Invest in a great moisturizer, and use it religiously. If you don't want to spend big bucks, you can totally go the DIY facial route with at-home facials from your local drugstore. The most important thing is just to moisturize your skin regularly.
What do you suggest when it comes to lash extensions or fake lashes?
Lashes are such a huge trend right now, and I am most definitely a fan. I always recommend lashes for the entire wedding party. Lashes opens everyone's eyes up and helps make them look and feel more awake. Most of my brides do strip lashes, but if you want lashes for longevity wear, consider lash extensions.
What is your favorite part about your job?
I love making people feel good about themselves. Whether it is a little blush, some contour, or that bomb highlight, there is no better feeling than turning someone's day around and making them feel a little more confident than they were when they walked in.
~
We hope that Melissa has helped answer some of your pressing questions when it comes to wedding beauty. As an expert in her industry, we loved getting to sit down with her and learn more about the world of beauty. If you are looking to book a make-up artist for your wedding or event, Melissa is your girl! Visit her at Pretty Lane in Cedar Rapids to attend her make-up classes or book with her here!