Lindsey and Kyle's Wedding at Celebration Farm in Iowa City, Iowa
A Marvelous Mauve Wedding at Celebration Farm in Iowa City, Iowa
Love in the Time of Pandemic: A Bumble to Hinge Wedding Journey
Like any modern love story amidst the Covid era, Kyle and Lindsey's tale begins on the dating app "Bumble." Their journey from a casual online encounter to a heartwarming proposal in Central Park is a testament to the power of persistence, fate, and the beauty of finding love during challenging times. Kyle and Lindsey's love story reminds us that no matter the circumstances, love will find its way. From witty opening lines to reconnections on different platforms, they proved that sometimes, all you need is a little persistence, a touch of fate, and a shared love for reality TV to find your perfect match.
With love in their hearts and excitement in the air, Kyle and Lindsey have chosen Celebration Farm in Iowa City, Iowa, as the perfect backdrop for their union. Surrounded by cherished friends and family, they look forward to creating memories, sharing laughter, and raising toasts to their everlasting love, making this day one for the books.
Friendship to Wedding Planning Partners
After Kyle and Lindsey got engaged, Kyle proposed the idea of hiring his long time friend, Emily, to help them plan their wedding. The couple decided on the the Experience Package. From the moment Kyle and Lindsey shared their vision with Emily, she and her team diligently listened to every detail, big and small. They aimed to incorporate the couple's personalities, interests, and unique love story into all aspects of the wedding. From the color palette to the floral arrangements, everything was carefully curated to reflect the essence of Kyle and Lindsey's love.
Emily's organizational skills and attention to detail ensured that every aspect of the wedding was meticulously planned and executed. From coordinating with vendors to managing the timeline, nothing was left to chance. Emily's experience in the wedding industry proved invaluable, saving the couple from stress and allowing them to truly enjoy their engagement and their special day with their friends and family!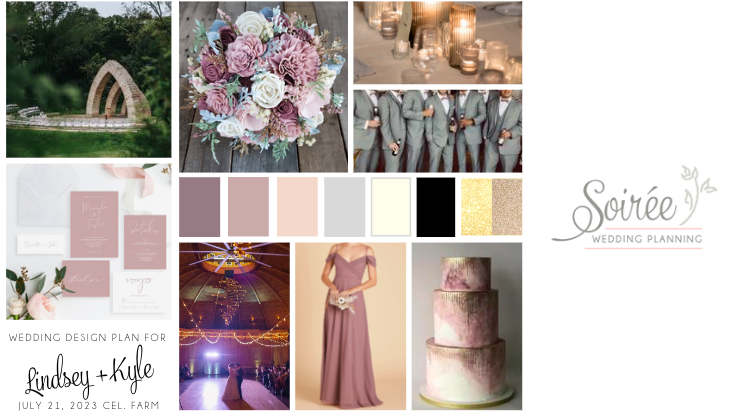 Vendors
Planning/Design: Soiree Wedding Planning
Venue: The Celebration Farm
Photographer: Brenna Norman Photography
Caterer: Tin Roost & Gold Finch Tap
Bakery: Shellys Handcrafted Expressions
Transportation: Hawk Bus Properties LLC
Beauty: Aurora Blush & Jess
Stationary: Allegra Iowa City
Rental Signage: Alpha Lit Letters
Caricature Company: The Nose Caricature
Rentals: Unique Events
DJ: Center Stage Productions
Bridal Gown Shop: Jocelyn Taylor Bridal
Bridesmaids Dresses: Birdy Grey
Jewelry: James Allen