Our Favorite Ways Couples Have Honored Their Grandparents
We love when our couples honor their loved ones at their weddings, and especially their grandparents. There are many ways that Grandma and Grandpa, or any other lost family member, can be remembered or honored. Here are some ideas that we see frequently at our events. 
Meaningful Photos
Lindsay & Chad's wedding featured a beautiful table of photos in the entrance to the reception at Ashton Hill Farm behind the guest book items and a gorgeous floral arrangement. A sign that says, "In loving memory of those who are forever in our hearts," is surrounded by images of grandparents that have passed.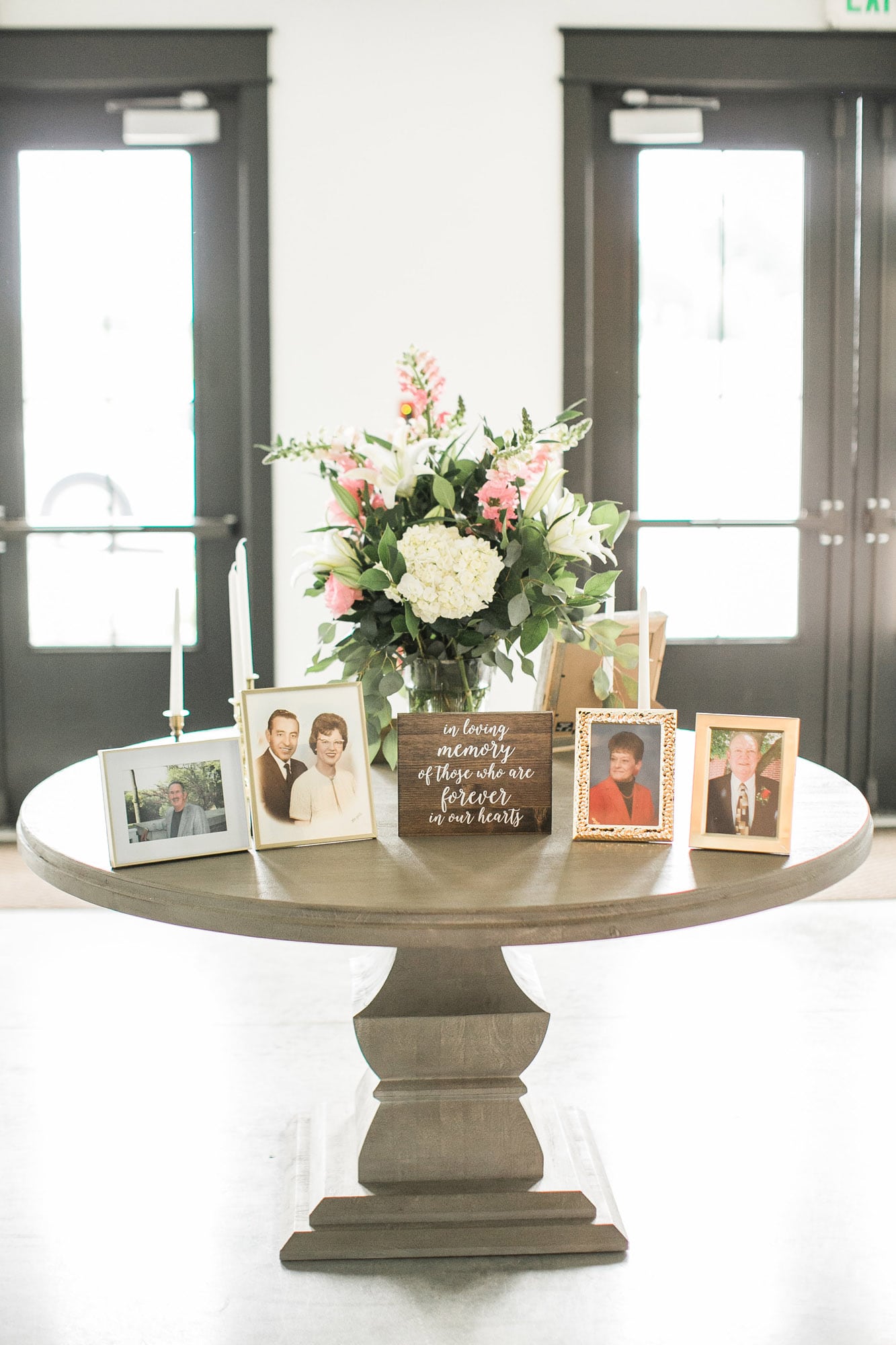 Photo: Ivory+Bliss
Miranda & Kyle had a similar table for their wedding. Using similar sized and shaped picture frames gives the table a cohesive look. It was placed in a corner of the ballroom so that it wasn't taking up much space, but still had an impact for guests to see and experience. This religious-based sign says "We know you'd be here today if Heaven weren't so far away".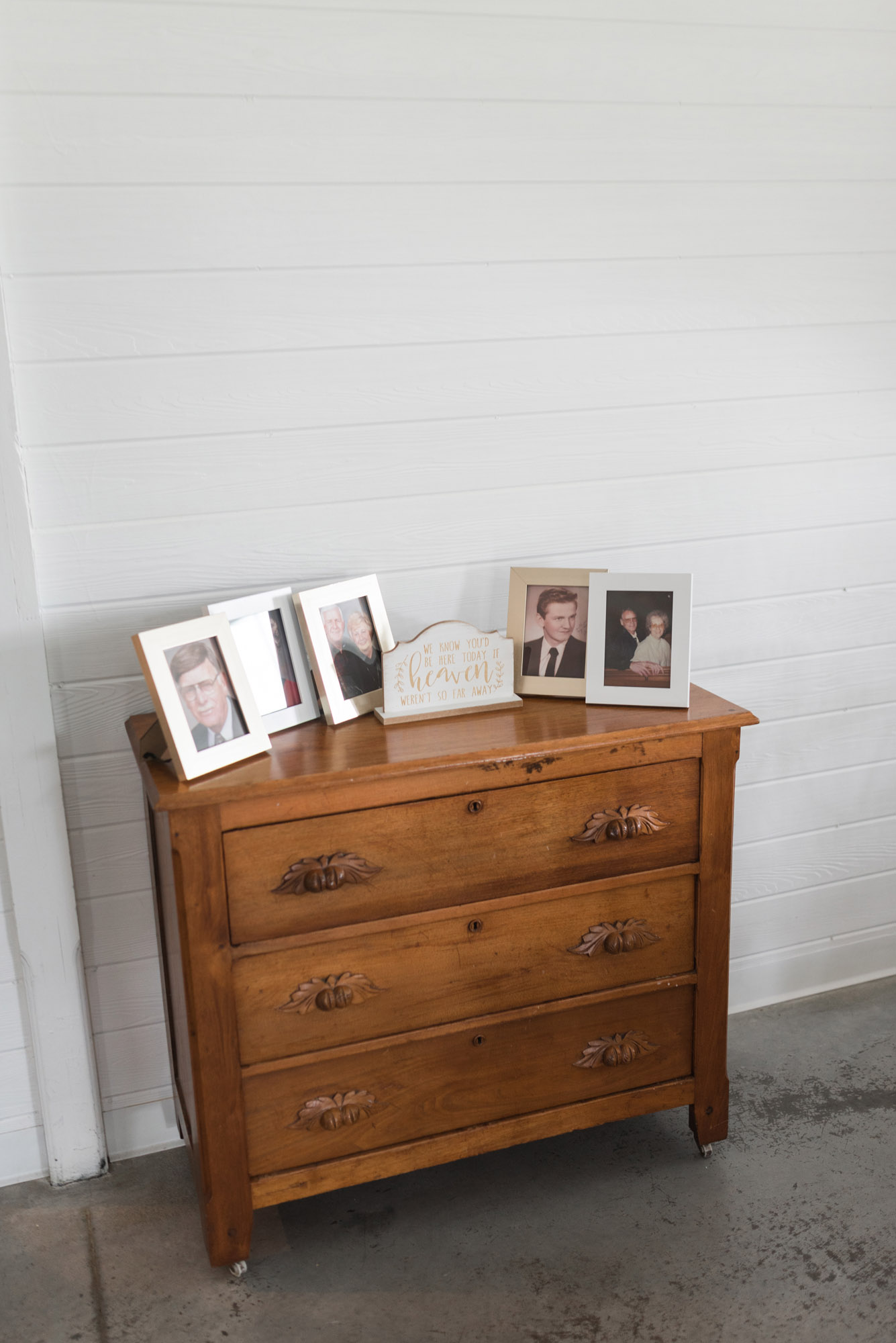 Photo: Jennifer Weinman Photography
Melissa & Spencer's wedding had a similar small display on the same table as the card box and guest book.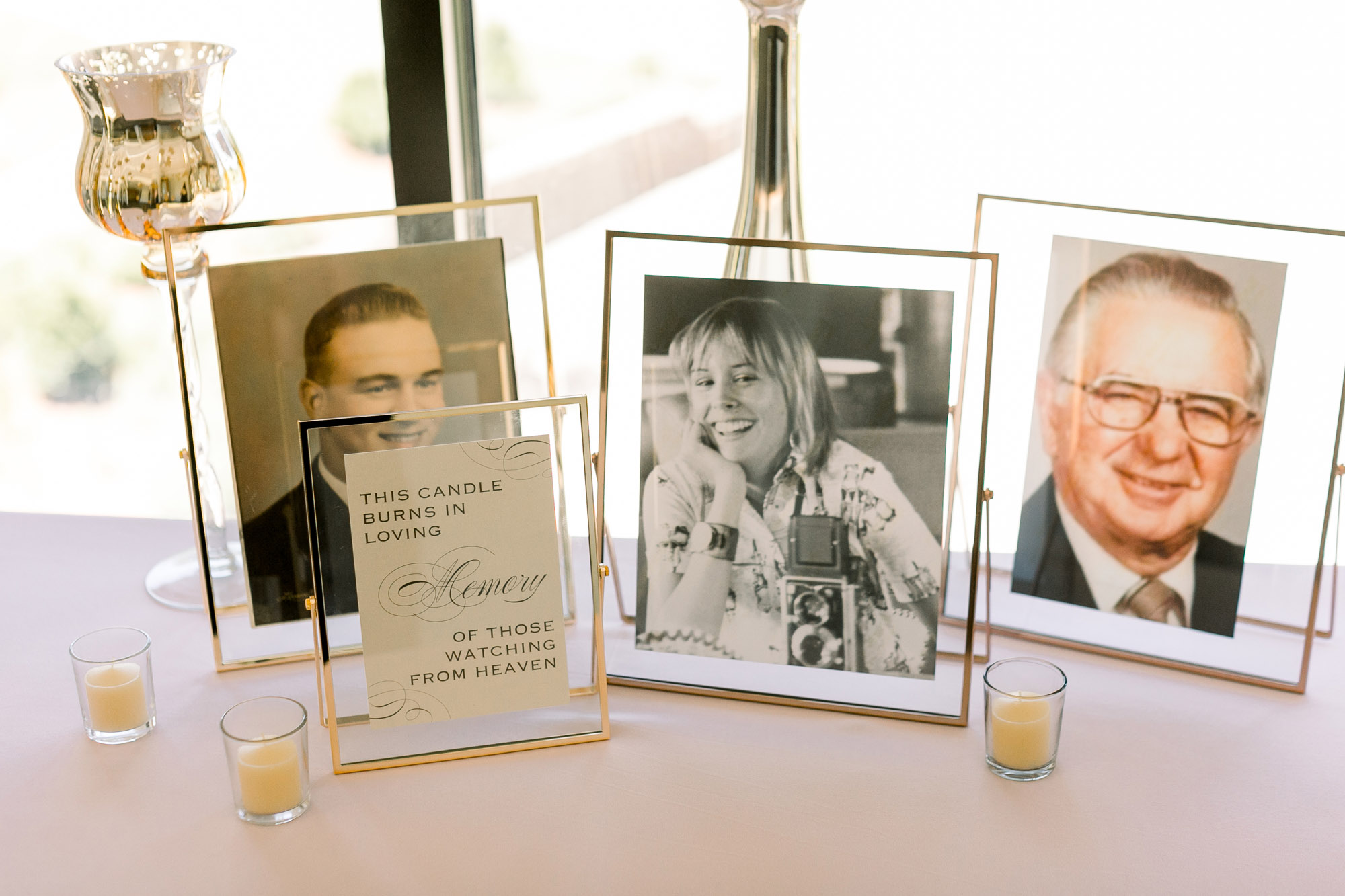 Photo: Ivory+Bliss
We loved how Cath tied small pictures in small frames of her lost loved ones to her bridal bouquet. These are a small way that she could look at her wedding flowers throughout the day and know those people are with her during these special moments.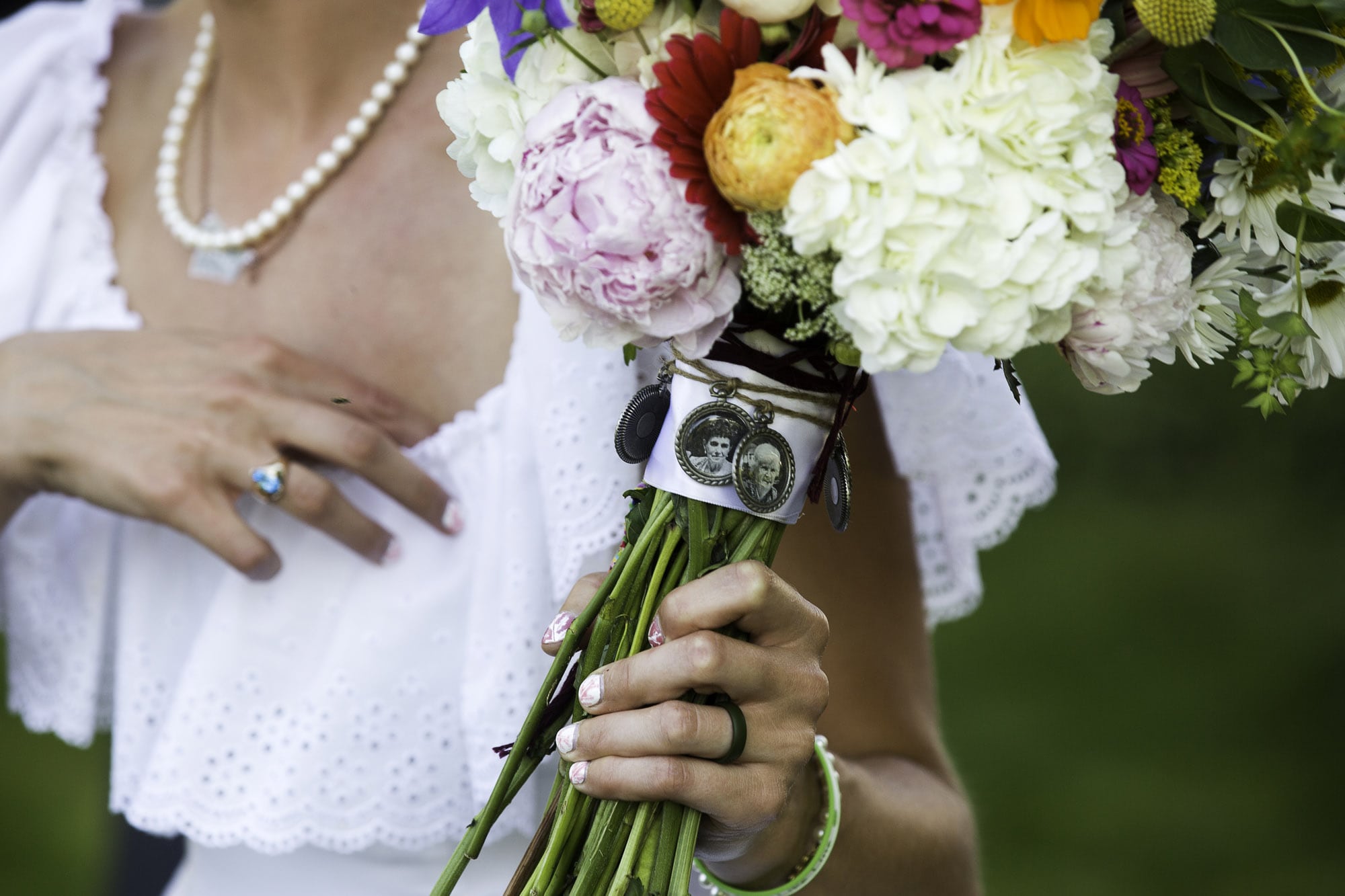 Cath & Blaine also had a Memory Garden with snapshots hanging from a clothesline for guests to wander in and out, noticing the beautiful images of those no longer with us. These sweet touches throughout the reception space were really fun for guests to explore and notice the small details that were unique to this family's celebration and memories.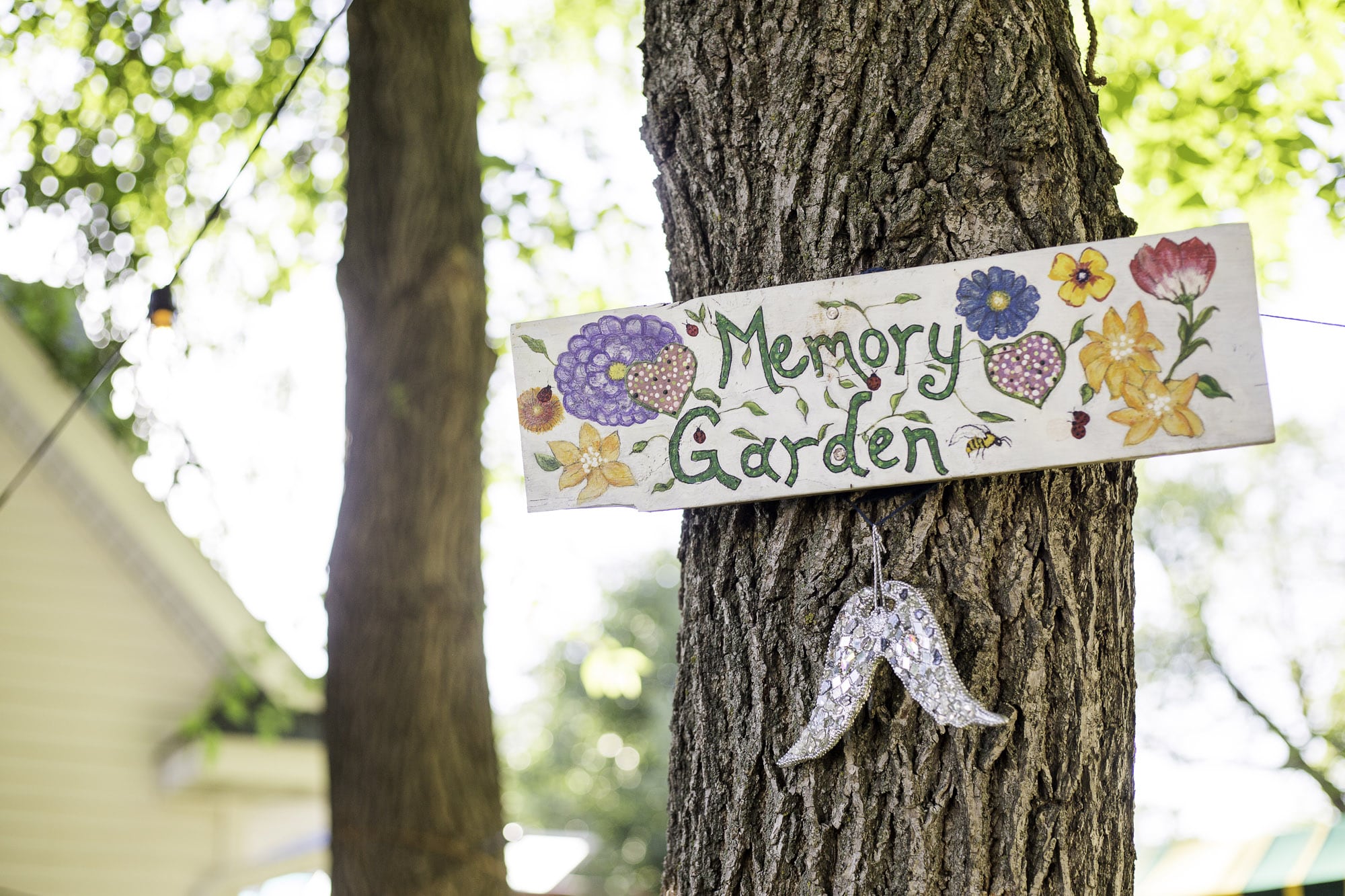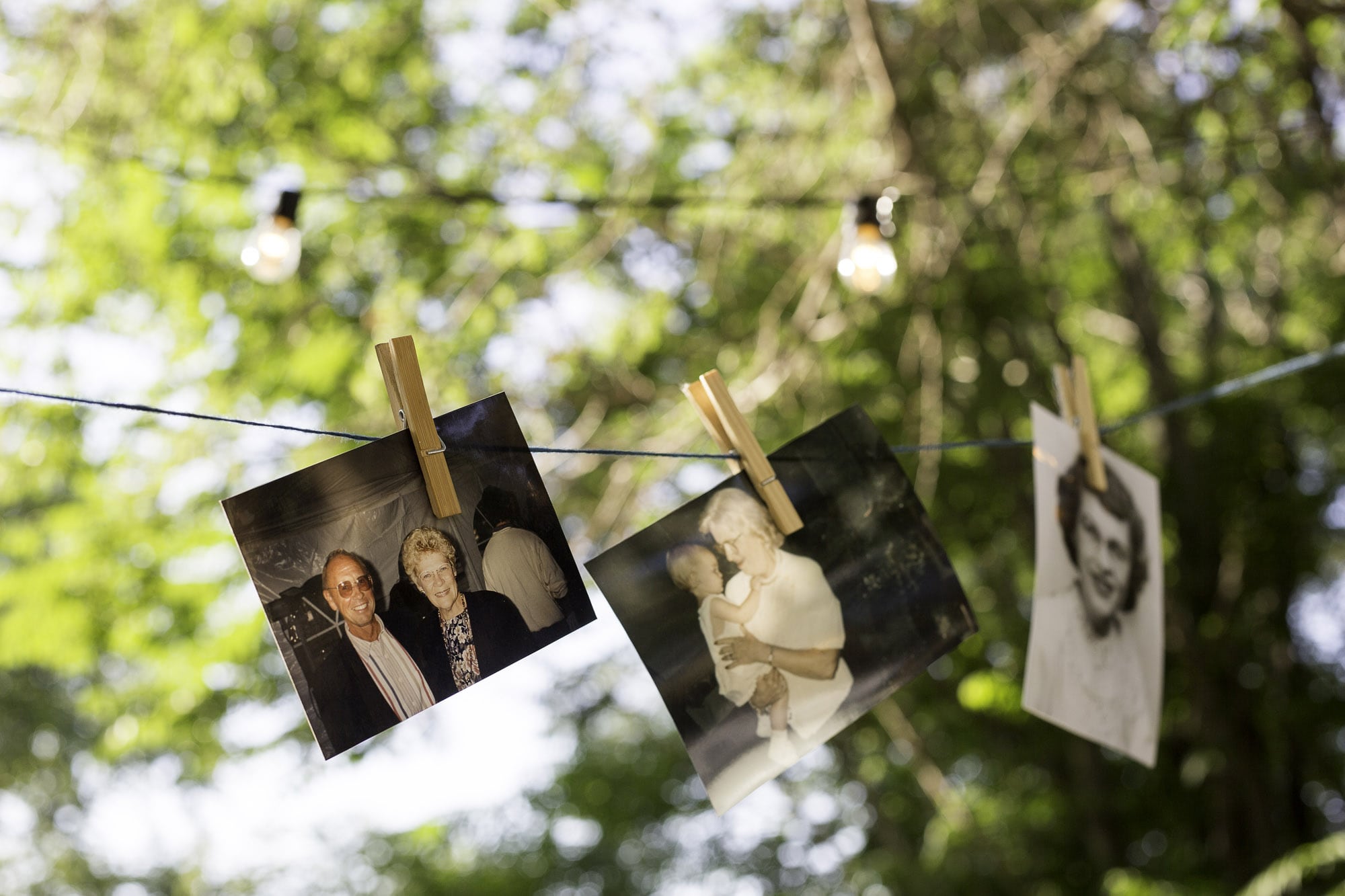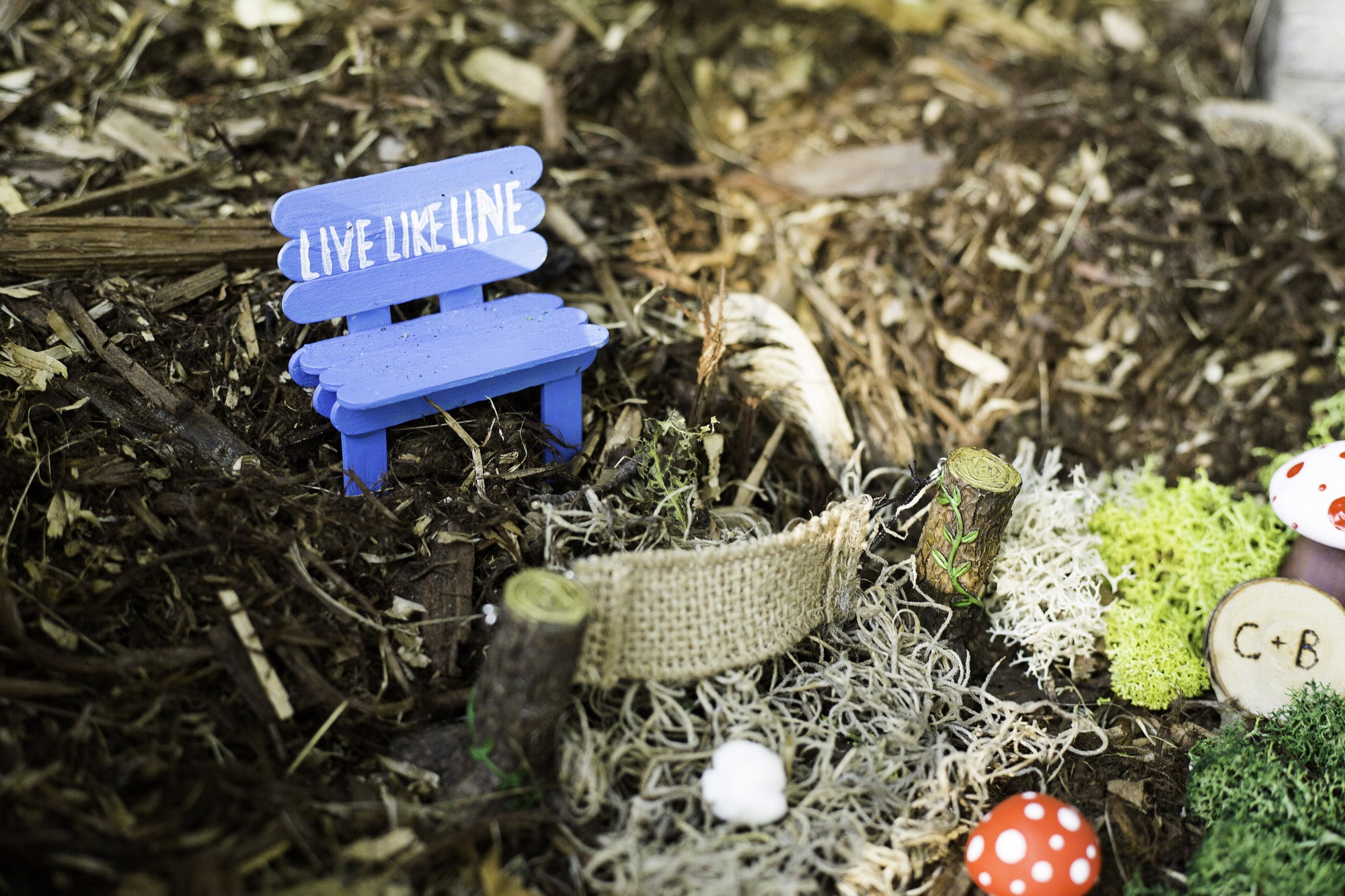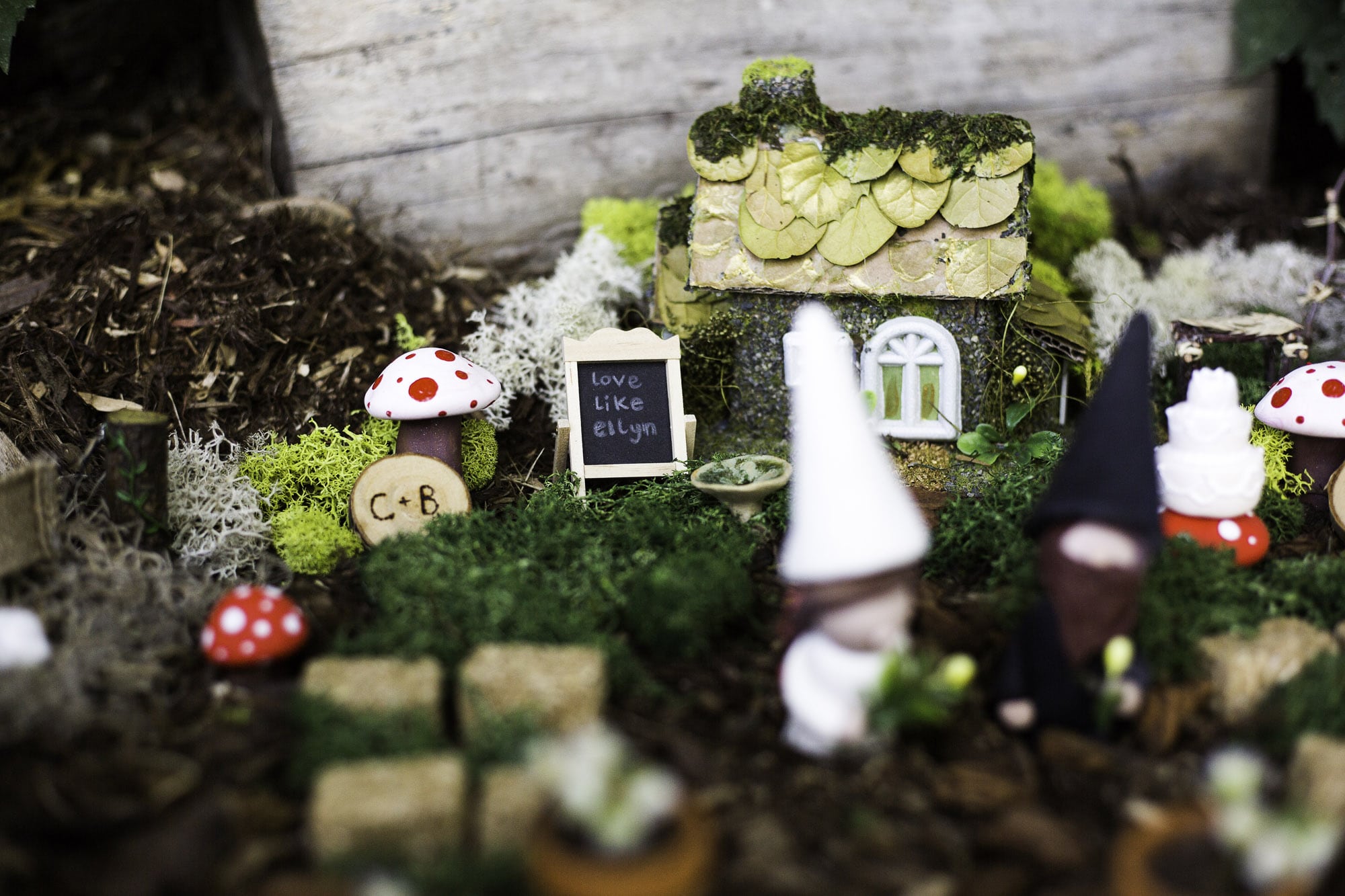 Above (5) photos by Thomas Langdon Photography
Save them a seat
There are quite a few ways to honor and acknowledge loved ones who have passed. If you don't have a photo or have very few members of your family that have passed, a sweet way to represent them at your wedding is to "reserve" a seat for them at the ceremony. This is a way to honor them in a way that is a bit more personal for the family. You can "save a seat" for them by placing a beautiful sign in the seats that make it clear as to who those seats are really intended for or you can even just sprinkle flower petals in the seats if you don't want a sign. This is a great idea for couples who may have been extremely close to their grandparents and couldn't imagine their day without them. 
The images below, taken by Ivory+Bliss, is actually for the groom's mother who had passed away recently. We thought it was sweet that the couple wanted to include her in their ceremony. Spencer walked a bouquet of tulips, his mother's favorite flower, and placed them on her seat during the processional.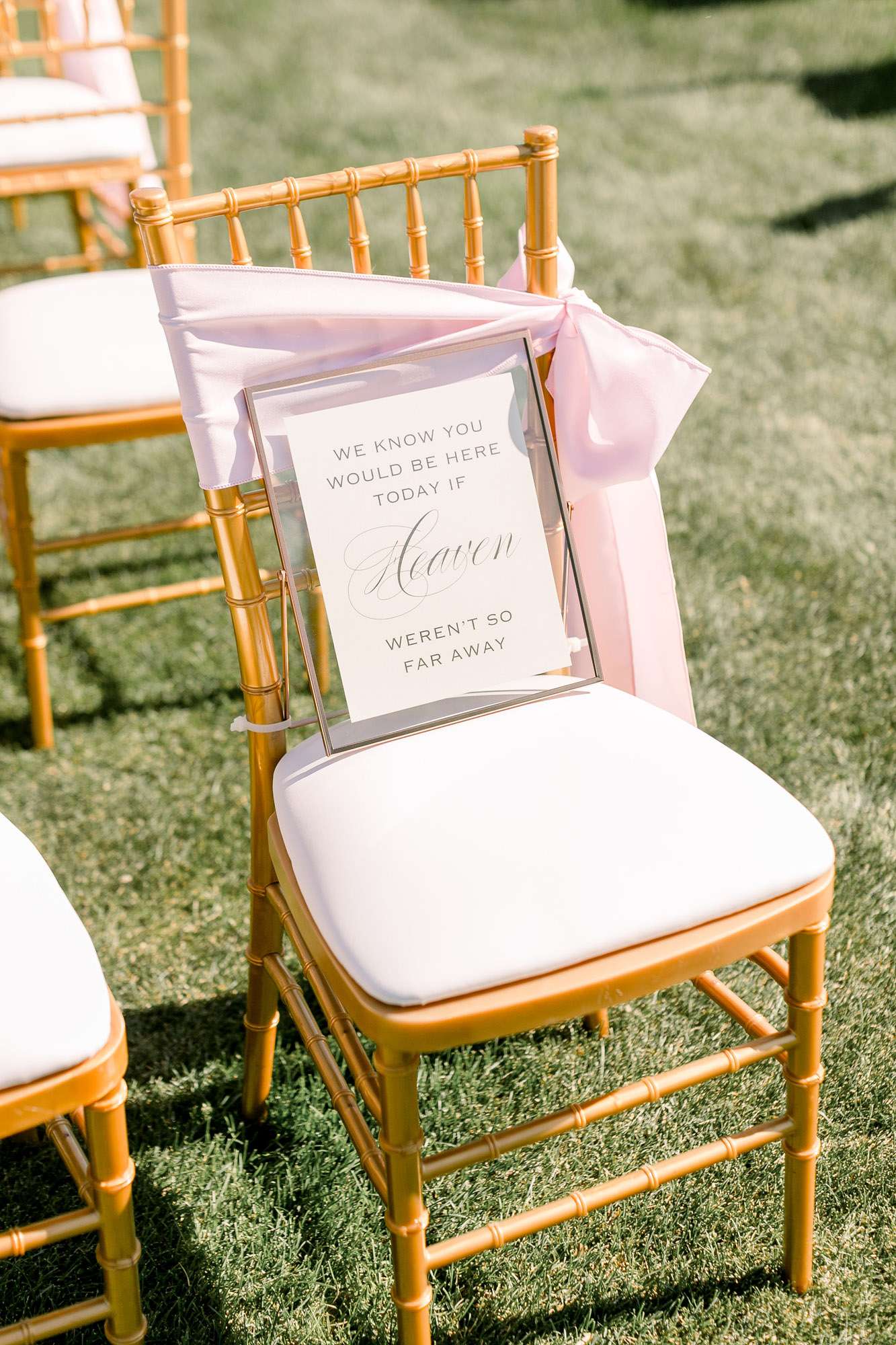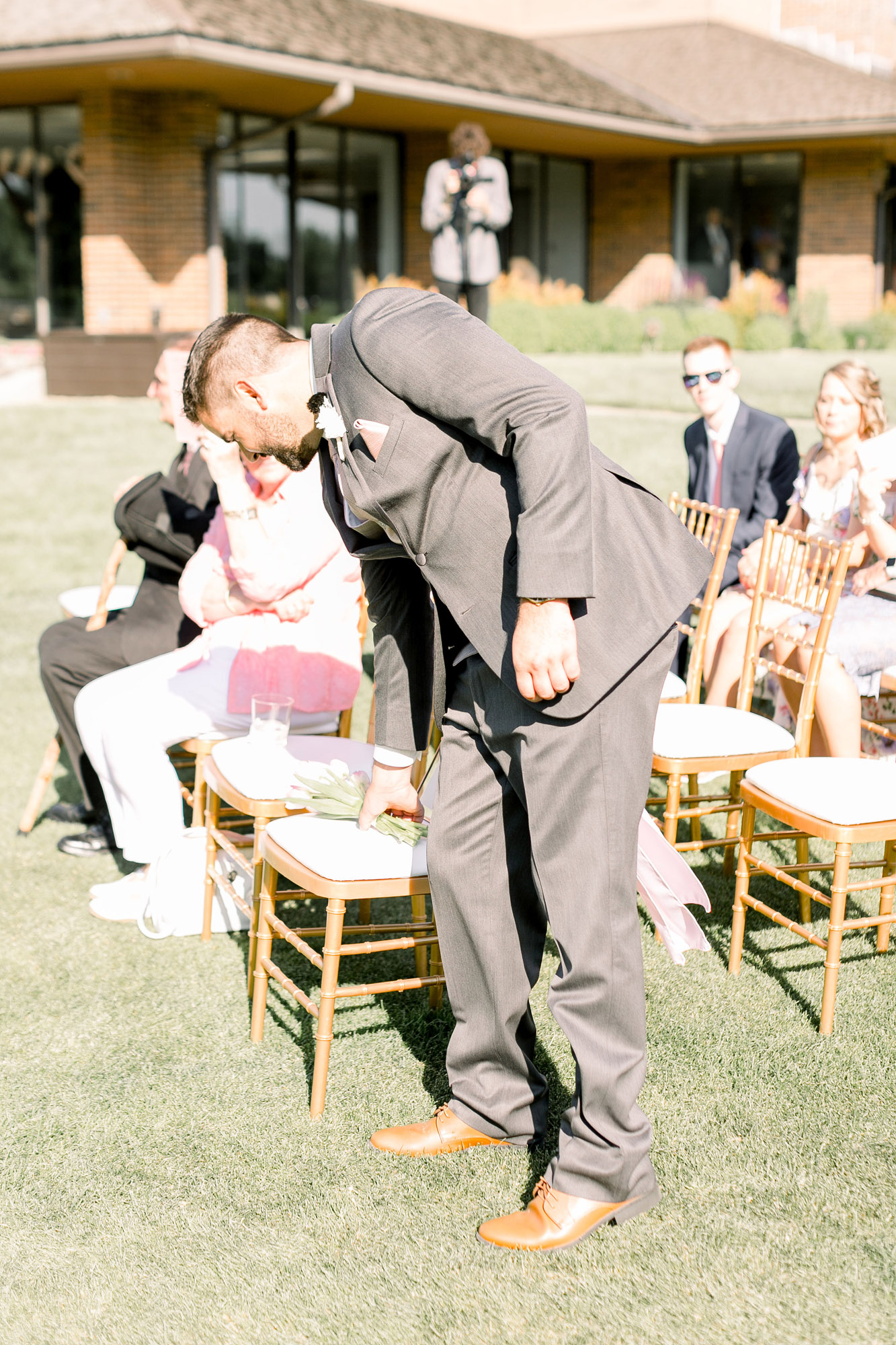 Photo: Ivory+Bliss
Light a Candle
Another way to honor loved ones who have passed is to light candles or lanterns in their honor. This can be done by placing them on a memory table with photos or it can be done in a very subtle way and can be placed at the ceremony around the altar. This can acknowledge those you have lost while also working with your decor. Print a cute sign and place in a frame next to a candle, and you're all set.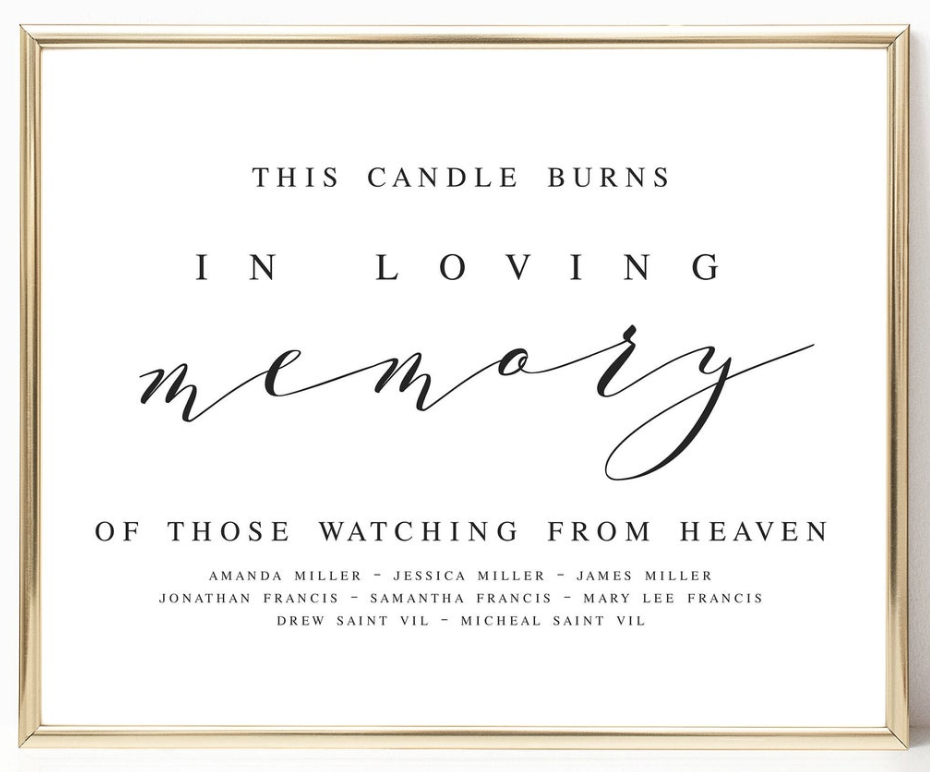 Photo: Modern Lovebird Photography
Bouquet Fabric
We love using something special to honor those loved ones that are no longer here. Kelly's uncle passed away a few weeks prior to her wedding. This was hard on her and her family, so we wanted to celebrate his life during her wedding. She was able to take one of his blue work shirts and bring to the florist who cut into a couple strips of fabric. We added those to the other ribbons that streamed down from her bouquet. We love how these small touches allowed her to have some sentimental elements in her big day!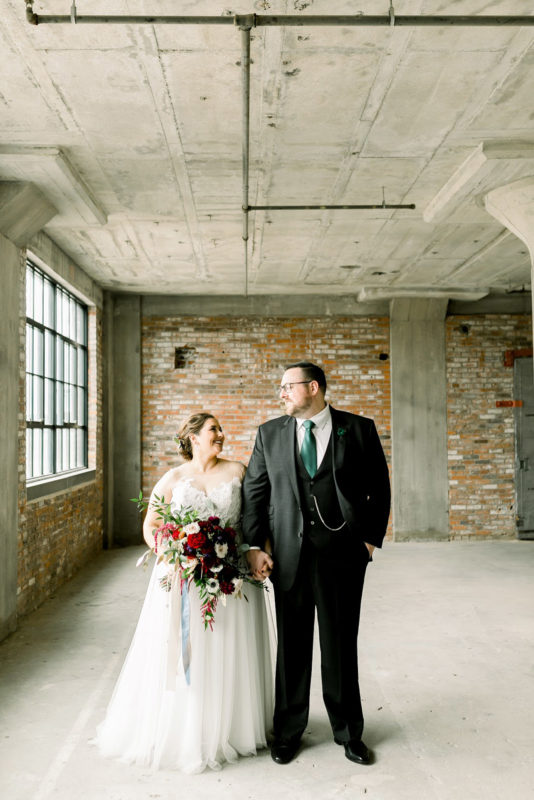 Photo: Ivory+Bliss
Get Creative!
Kelly & Jake loved the idea of a memory table, but they wanted to create something that was more memborable than just a table with candles on it. We had a large sign from Allegra Iowa City on foam core, showcasing one of their favorite poems about lost loved ones. Kelly & Jake provided photos in frames and we placed these on a custom table from Unique Events. In the spirit of an ofrenda, we added orange marigolds to pop off the black and emerald orange colors. It was one of the couple's favorite elements of the event design! We loved this celebration of lost loved ones while making the space super unique for the event!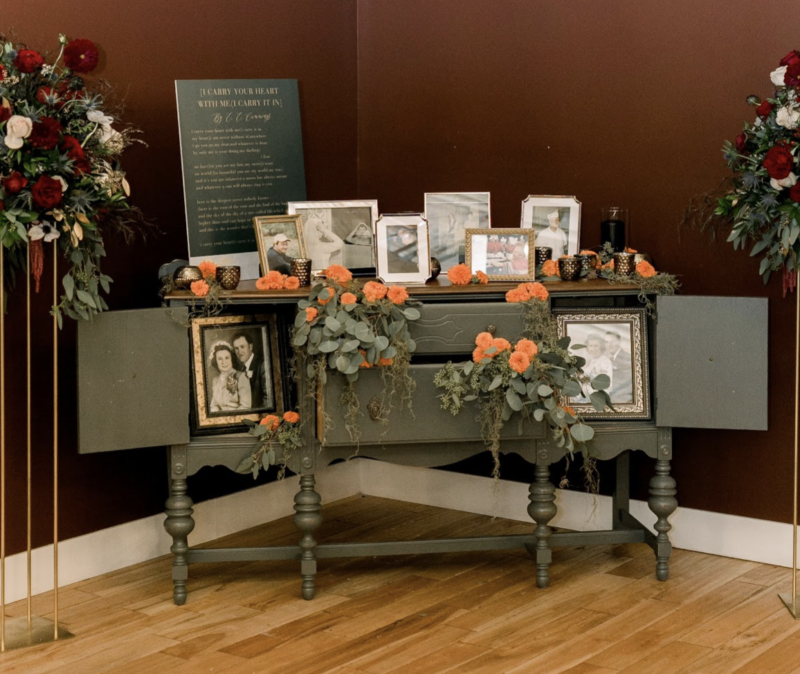 Photo: Ivory+Bliss
Celebrate those still with us!
We also love it when living grandparents are honored at weddings! Alex honored her grandmother by asking her to be the "flower girl" in the wedding party. Grandma walked down the aisle just before the bride and was a fun sight for the guests to see. Holding a beautiful small bouquet of flowers, she was a wonderful addition to the processional at the church!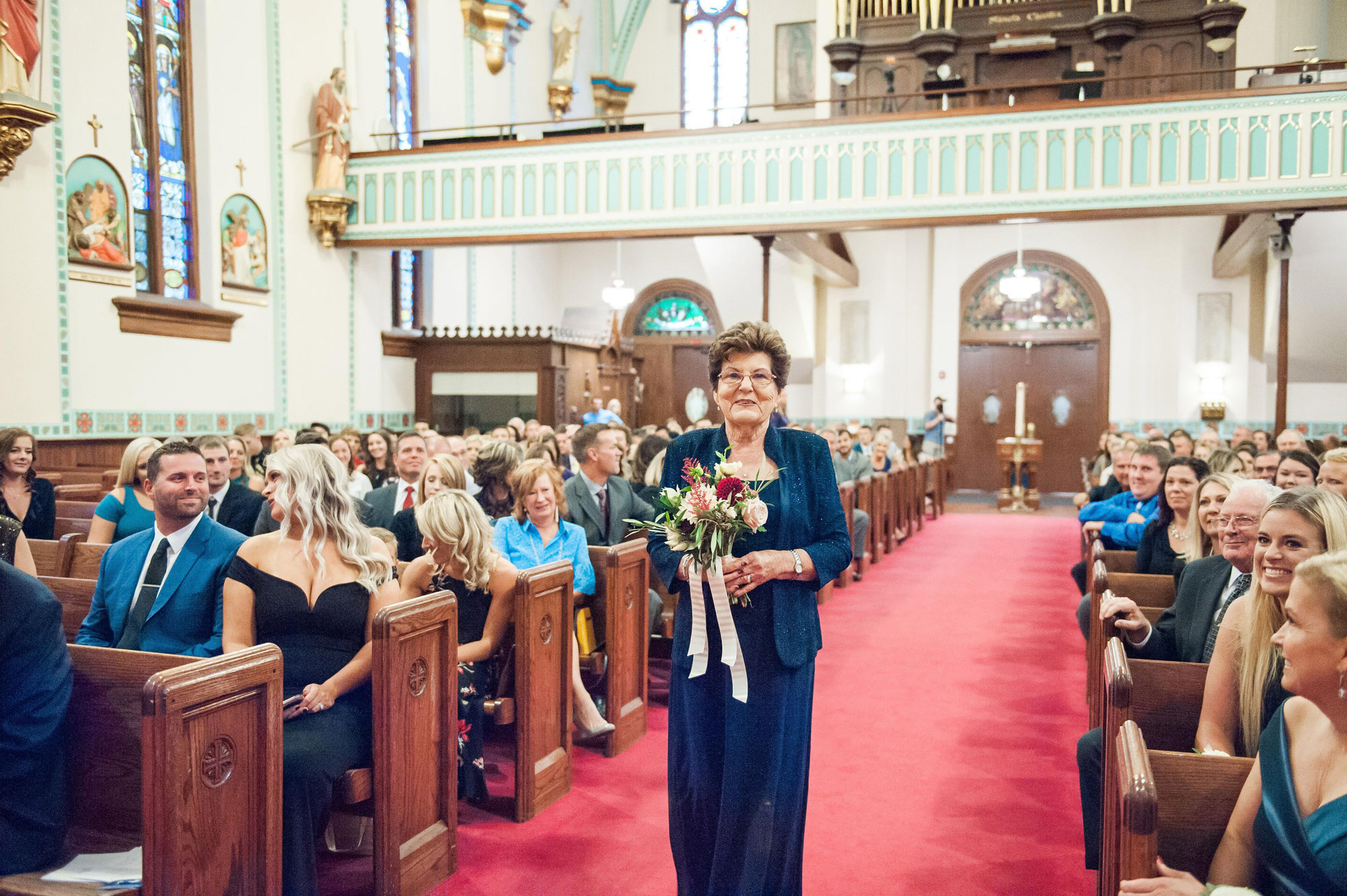 Photo: Stephanie Marie Photography
Something Borrowed
If you are looking to honor your grandparents, you can also incorporate personal items that are or were owned by them. Whether it's a tie or a watch from a grandfather that the groom wears, or maybe jewelry or an accessory from a grandmother for the bride, there are many ways to include your grandparents in your special day. By simply including things that they loved or that remind you of your grandparents such as incorporating specific flowers, maybe there are some of the same types of flowers from their wedding day, these are all great ways to make them feel loved, special, and honored on a day that is not only meaningful to you but also meaningful to them.
This photo is of our owner & principal designer, Emily's wedding. She wore her Great-Grandma Marie's wedding ring on her wedding day as her "something borrowed". The gold ring is actually three rings, one the engagement ring, one wedding band, and another ring her Great-Grandfather gifted her. She had them soldered together and wore them like this her whole life; until it was passed down to her daughter, Emily's grandmother, who has passed it on to her.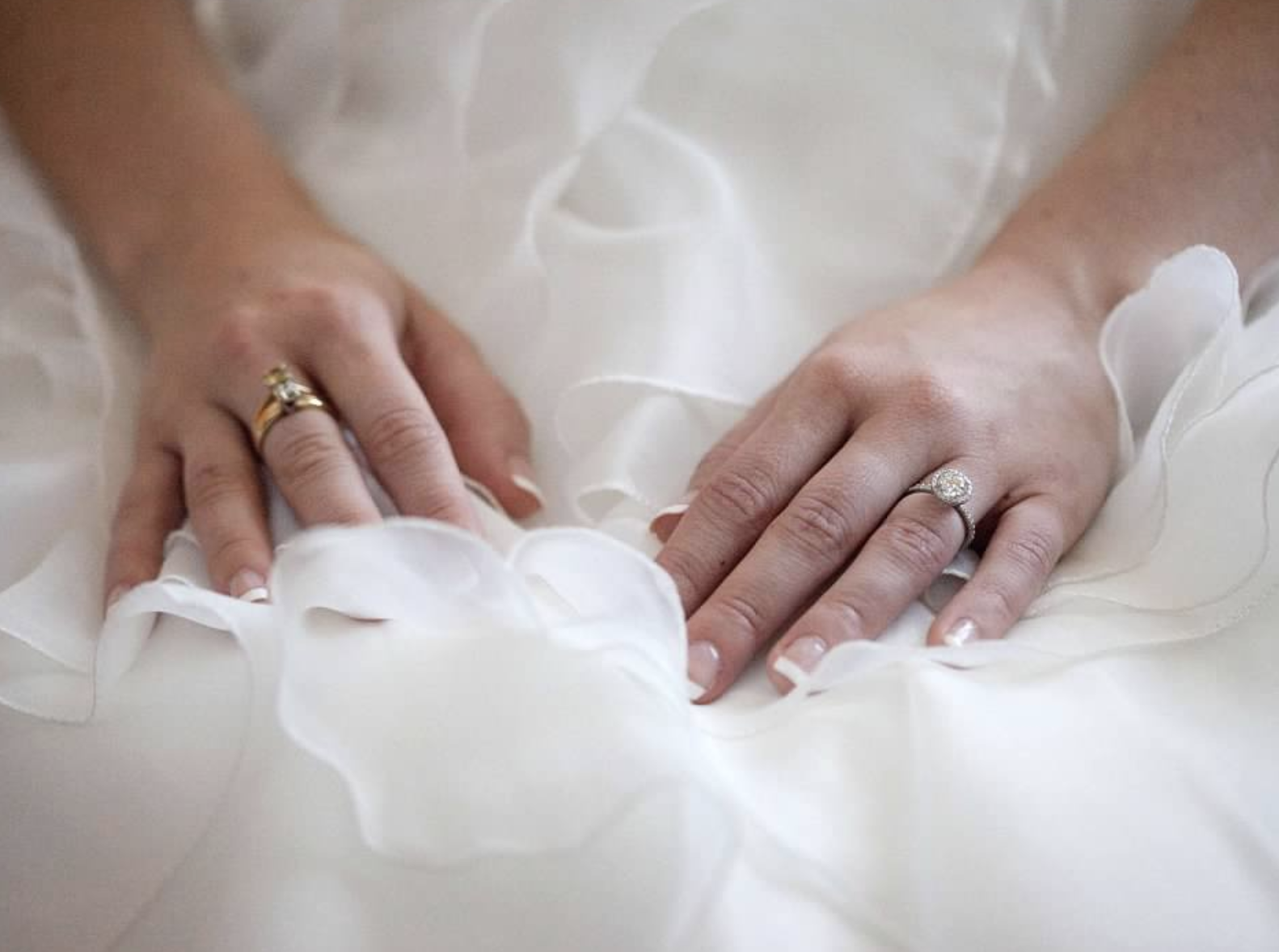 How are you honoring your grandparents or your special people into your wedding?