Soirée's Guide to: Floral Recommendations
Flowers play such a huge role in the overall look, feel, and vibe of your wedding day! From bridesmaids bouquets to centerpieces, and boutonnieres to archways, flowers are a gorgeous way to add color and texture to your big day, and the options are endless!
Check out Soiree's top tips for your big day blooms!
Feature Image: Willow & Stock 
Personal Significance
Flowers can have a special, personal meaning, so consider choosing blooms that mean something to you or your fiance. Did your fiance give you tulips before he proposed? Did your mother use gardenias in her own bridal bouquet? Maybe your grandmother wears rose-scented perfume, or you grew up next to a field of wild daisies. Choosing flowers for their significance, rather than just their color or style, brings the perfect personal touch to your florals. The tiger lilys in this bouquet was because of the bride's mother and the hankerchief was from the bride's grandmother.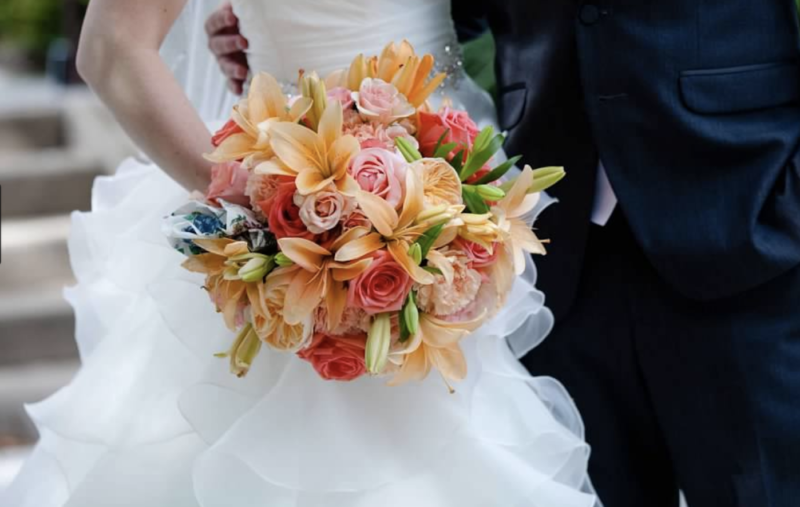 This wedding used a strip of fabric from a recently passed loved one's shirt to honor and remember him, as well as a rosary from her family on the handle.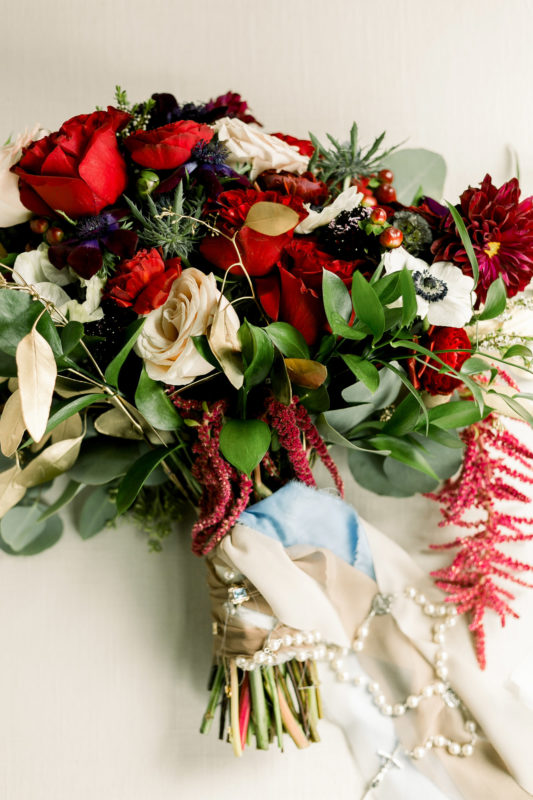 Photo: Ivory+Bliss
Floral: Unique Events
Get Creative!
There are so many fun and unique ways to incorporate flowers into your wedding day besides the traditional bouquets and centerpieces. Flowers used in non-traditional ways are showstopping!
Attaching fresh flowers to your veil, or wearing a flower crown or belt, adds color, texture, and breathtaking natural beauty.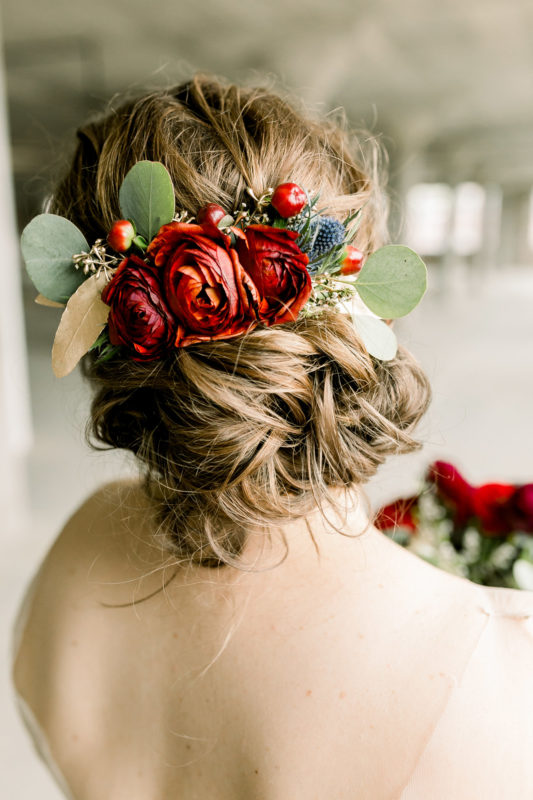 Photo: Ivory+Bliss
Floral: Unique Events
Is your puppy in the wedding party? An adorable way to highlight a furry family member is by giving him or her their own flower collar.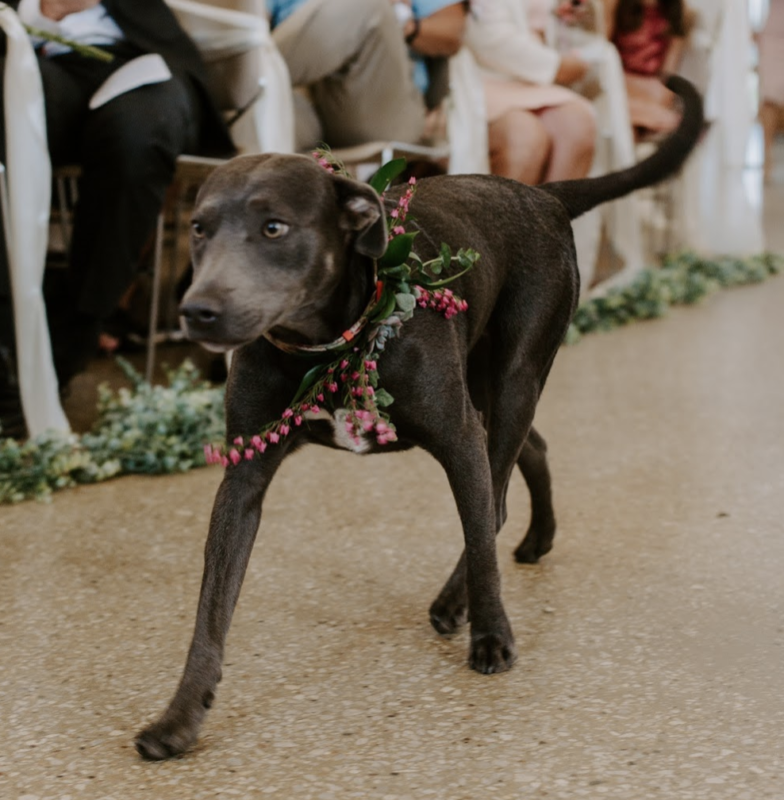 Photo: Connor Barber
Flowers: E's Floral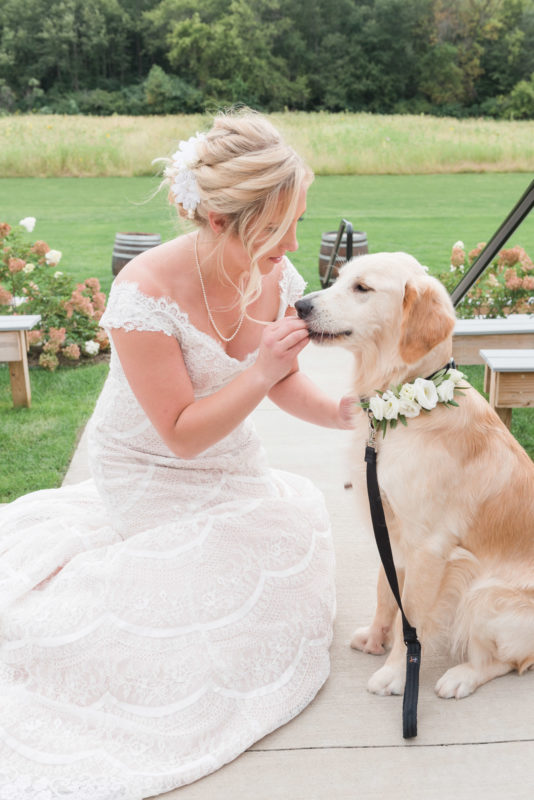 Photo: Jennifer Weinman
Floral Collar: Studio Bloom
Another gorgeous way to make your florals stand out is by incorporating them into the food. Add flower petals to your signature cocktail!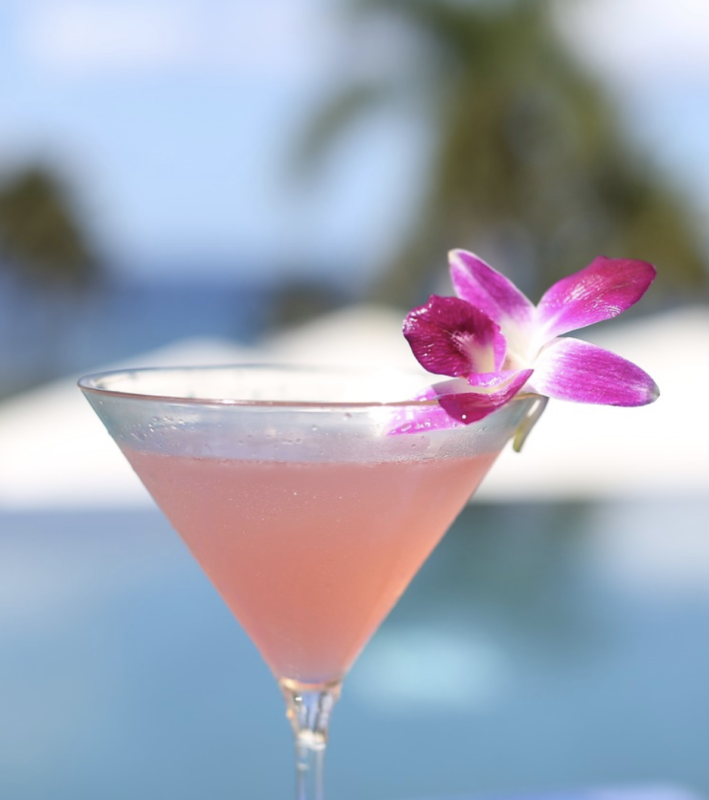 One of the latest trends that we love is how couples are making a big statement with lush flowers on your wedding cake.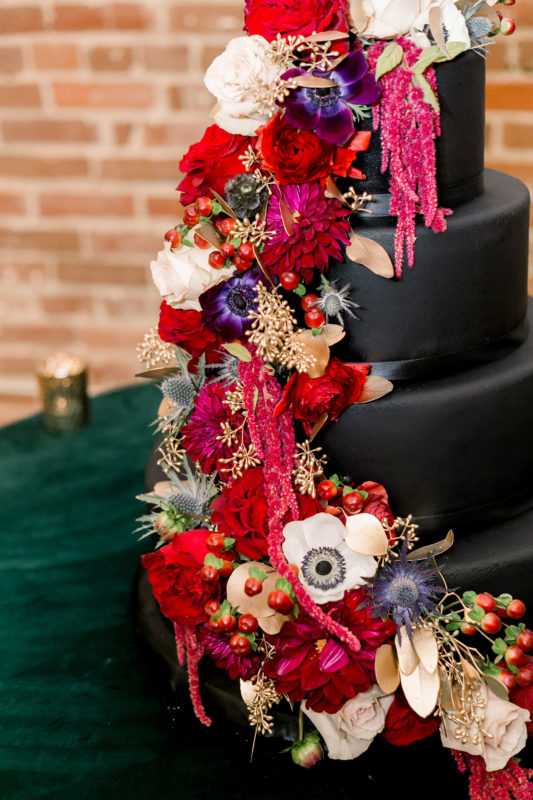 Photo: Ivory+Bliss
Cake: Tip Top Cakes
Flowers: Unique Events
Reuse Flowers
Florals can take up a big chunk of your wedding budget, so save costs by having your bouquets do double duty! Save money by planning to reuse your ceremony blooms as reception decor!
Bridesmaid's bouquets can be repurposed as centerpieces for the reception tables.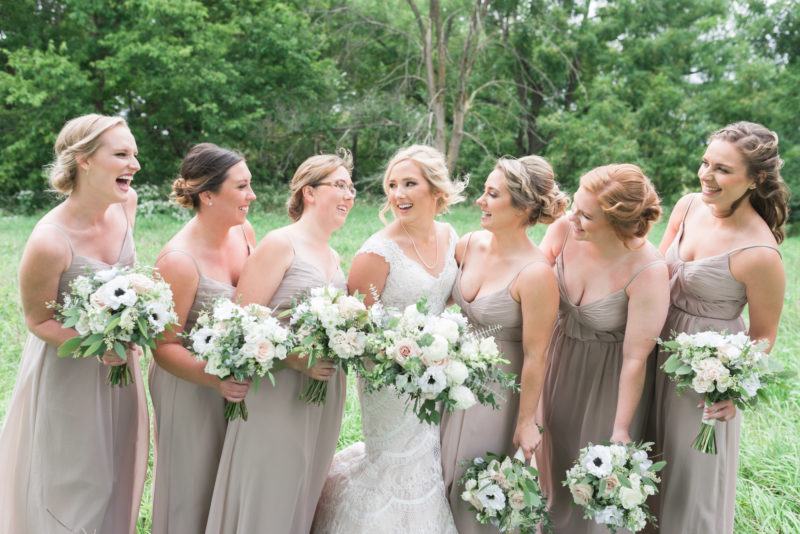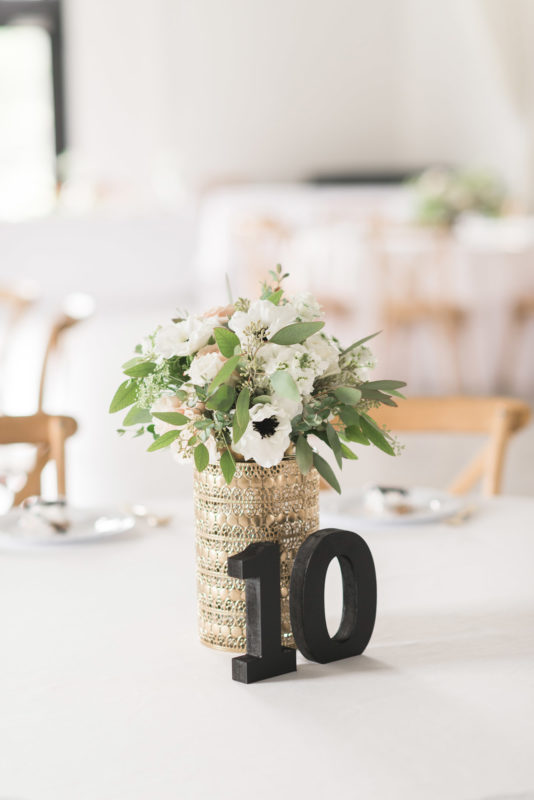 Photo: Jennifer Weinman
Floral: Studio Bloom
Use the flowers from the ceremony archway for a statement piece for the head table.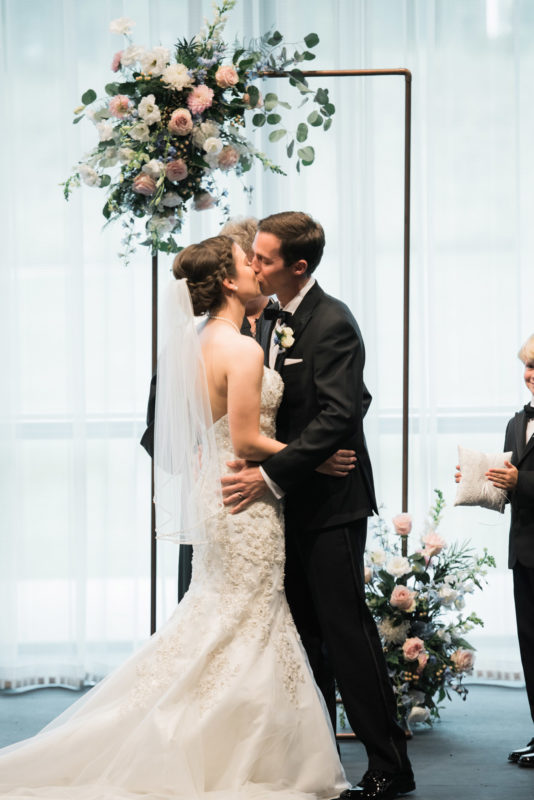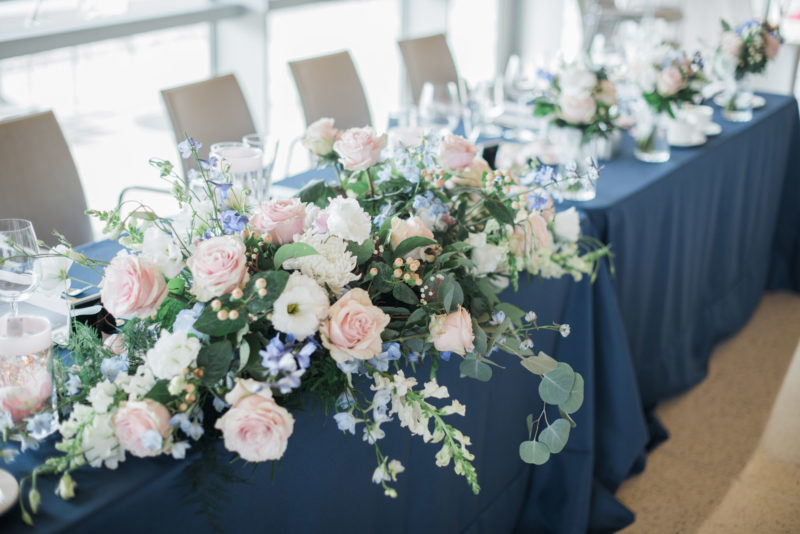 Photo: Stacie Ricklefs
Floral: Every Bloomin' Thing
Look Local
When looking for floral vendors, we recommend always looking at professional, local flower shops in the area of your wedding celebration. They can order in florals from all over the world through their distributors, so you'll still have the best variety of options. Working with a local florist gives your arrangements a personal & artistic touch that can be completely customized to meet your needs! We recommend booking with your florist early, ensuring that all of your questions and concerns will be met, far in advance of your big day.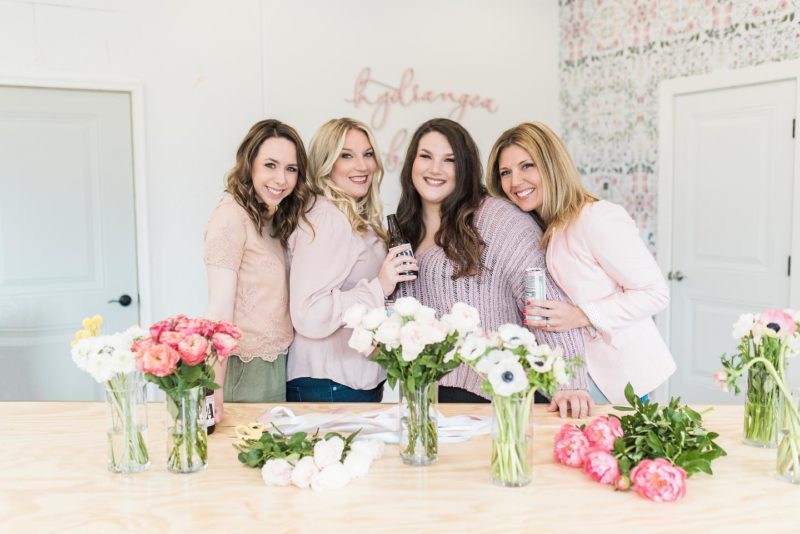 Photo: Stephanie Marie Photography
Studio: Hydrangea Bloom
In Eastern Iowa, we love our local florists. You're ensuring the freshest and best-looking blooms when working locally because they will not have to travel with the flowers over long distances. Hiring professional & trustrowrthy florists is crucial to having gorgeous flowers on your wedding day!