Amy and Eric's Wedding at Bella Sala in Tiffin, IA
A Blissful June Wedding At Bella Sala in Tiffin, IA
A Love Story Born from Bumble
Love has a way of finding us when we least expect it, and for Eric and Amy, fate brought them together through the digital realm of a dating app. Little did they know that their chance encounter on Bumble in February 2021 would lead to a lifetime of happiness and cherished memories. It was an instant connection, nurtured through heartfelt conversations and shared values.
As the world grappled with the challenges of the COVID-19 pandemic, Amy, a dedicated healthcare worker, their love grew. What struck her most about Eric was his thoughtfulness and consideration for her well-being. He insisted on waiting to meet in person until he was vaccinated, recognizing the importance of protecting her as a frontline worker. This act of kindness deeply touched Amy's heart and laid the foundation for a relationship built on care and understanding.
Finally, in May 2021, after months of anticipation, Eric and Amy had their first in-person date. Their meeting surpassed all expectations, as the chemistry they had cultivated virtually effortlessly translated into the real world. From that moment on, their journey together unfolded with ease and joy. Amy recalls feeling an overwhelming sense of certainty that Eric was the one she wanted to spend the rest of her life with.
Less Stress with Soirée
Planning a wedding can often be daunting, filled with countless decisions, logistics, and stress. However, Amy and Eric discovered Emily and her team in their wedding planning journey: Soirée Wedding Planning. After meeting with Emily, the couple decided to go with the Experience Package. With Emily's expertise and meticulous attention to detail, Soirée transformed their special day into a celebration filled with a romantic ambiance and the warm embrace of both families. We helped the couple find their venue: Bella Sala, design what the decor would look like, find all the vendors, organize all the stationery, and so much more. Amy and Eric's wedding day was a testament to the power of meticulous planning, attention to detail, and the celebration of family.
This is Amy & Eric's design board. Read below to see how it all came together on the big day. Congratulations to the happy couple! It was a joy to work with you, and we wish you all of the best!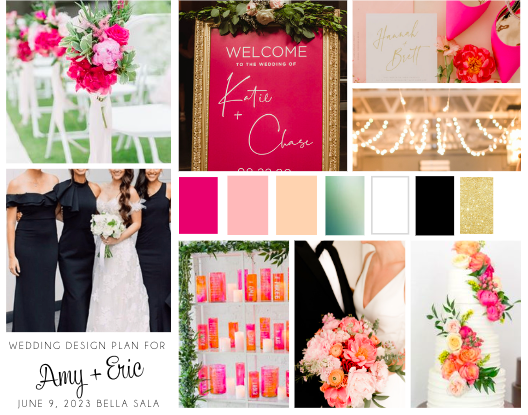 Vendors:
Planning/Design: Soiree Wedding Planning
Venue: Bella Sala
Caterer: Pepper Corn Food Company
Photographer: Emily Crall
Stationery: Allegra Iowa City
Bridal Gown Shop: Hopes Bridal
Tuxes/Suits: Skeffingtons
Jeweler: Facets by Susong
Beauty: Thompson and Co Salon
DJ: Center Stage Productions
Floral: Studio Bloom
Rentals: Unique Events
Cake: The Wooden Spoon Bakery
Musician(s): Cedar Valley Strings
Bridal Gown Designer: Essence of Australia
Suits: Skeffington's Formalwear
Jewelry: Facets